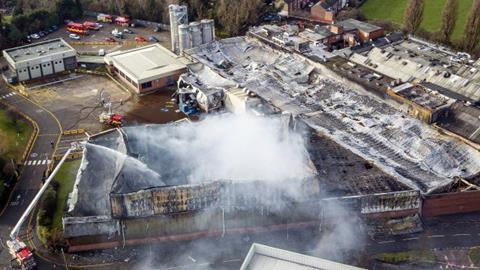 A large blaze at the Speedibake factory in Wakefield has been tackled by more than 100 firefighters this weekend.
The fire broke out Saturday lunchtime at the site in Colinsway, which produces doughnuts, mince pies and speciality breads, and fire services were still on-site on Sunday night, dealing with the situation.
By mid-afternoon on Saturday, West Yorkshire Fire & Rescue reported that 75% of the factory's 80 metre by 80 metre ground floor was involved and that 140 fire fighters were on-site.
Speedibake, which is part of the AB Grains business owned by Associated British Foods, said all staff had been evacuated and there were no injuries.
The alarm was raised at 1.17pm on Saturday, with 20 pumps from across the county sent to deal with the blaze.
At one stage, local people were told to stay indoors with their windows shut because of concerns over asbestos in the smoke plume from the blaze. It was later confirmed that no asbestos was present in the section of the building involved in fire.
At 11pm on Sunday night, almost 36 hours after the fire was first reported, four fire service pumps and an aerial appliance were still on the site, and were expected to stay there overnight.
Speedibake said it was "extremely grateful for the ongoing work and tireless support of the emergency services", which had responded to a fire at its facility in Colinsway, Wakefield.
"We continue to work with the fire service as they remain on-site and can confirm the building was evacuated swiftly in line with our procedures and there were no injuries reported to any of our employees. Speedibake's other facility in Bradford remains fully operational."