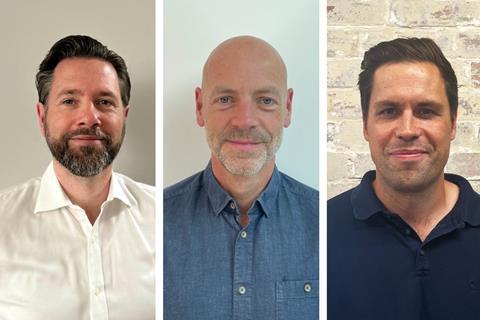 Non-HFSS cookies brand Jnck Bakery has appointed four highly-experienced food industry professionals in senior roles.
It comes as the company continues to move forward with plans to disrupt the UK sweet treat market.
Joining the team as a non-executive director is Paul Mumford, a commercial expert in grocery who now specialises in growing challenger food brands with a focus on health. Having previously held managerial roles at Britvic and General Mills, Mumford helped launch mission-led brands including Bio-tiful Dairy, Oggs, and Grounded, leading them to become businesses that are making a positive difference to the environment and the nation's wellbeing.
Twan Snoeijen, who has amassed five-year stints with Starbucks, McDonald's and Cargill during his career, also joins as a non-executive director at Jnck. He currently holds various advisory and non-executive director roles in the food and beverage industry and has held senior roles for major global players across product innovation, strategy, procurement, and convenience retail. Snoeijen brings his extensive product knowledge, network and experience in the out of home sector to ensure the bakery business is set up for success.
Meanwhile, Simon Browning has been named Jnck's new strategic commercial partnerships director. As a well-known executive in the foodservice industry, he is said to be ideally placed to grow the company in the sector. Browning was responsible for setting Krispy Kreme's on-demand delivery in the UK, tripling its growth in the channel, and has been the managing director of delivery experts Fudami for over 17 years.
Lastly, Michael Fine (not pictured) has been appointed as a board advisor, bringing over 30 years' experience advising boards and investors in the consumer and retail sector. He was formerly the long-standing director of retail strategy and IT consultancy firm Javelin Group, and also managing director at Accenture.
"We are thrilled to announce such expertise in our team," said Sean Brassill, who founded Jnck with his brother Alex. "By bringing Paul, Simon, Twan and Mike on board we are proving our commitment to making huge changes to the cookie sector. We know there is an appetite for healthier indulgent cookies – there is literally nothing like Jnck in the UK."
Launched earlier this year, Jnck's range of fresh, chewy cookies are billed as containing 90% less sugar, 50% less saturated fat, three times the protein and five times the fibre compared to existing products on the market.