Hugh Evans, Marketing Manager Europe and Asia at Synergy Flavours explains why vanilla's complexity keeps bakers coming back for more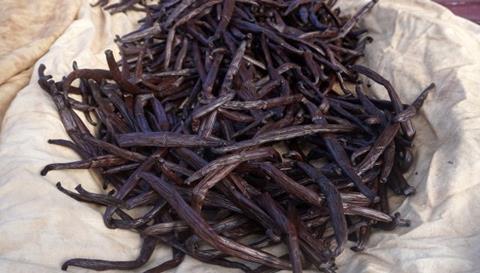 Vanilla is one of the world's oldest and most popular flavours, conjuring up feelings of indulgence, nostalgia and familiarity in bakery applications, from pastries and desserts to cake and biscuits. Although vanilla originated in Central America, the same V. planifolia cultivar grows in Madagascar, which has developed its own traditional growing methods.
While 'plain vanilla' has become a widely used phrase, vanilla is anything but plain. The practice of growing, farming and curing vanilla has only been perfected in a few places across the globe, and it has a complex flavour profile to match. Pure vanilla is one of the world's most complex flavours, with more than 250 organic components (sometimes up to 500) making up its unique taste. Even the same species of vanilla can vary in flavour across the world, due to climate and differences in soil, as well as how the beans are cured.
Madagascar produces around 80% of the world's vanilla and its beans are sweet, creamy and complex – this type of vanilla is very familiar and is often used to flavour baked goods, ice cream or any products demanding a traditional nostalgic vanilla flavour. Madagascan vanilla is the most recognised vanilla profile and is the most widely used globally. Vanilla from other regions, such as Tahiti and Indonesia, vary in aroma compounds and can also be a source of inspiration for customised vanilla flavours to suit the finished application.
Versatile vanilla
Madagascan vanilla can be tailored to make endless variations on the flavour depending on taste preferences globally. Aside from a standalone profile, vanilla can also be paired with other indulgent flavours, such as chocolate and caramel in particular, to add indulgence and depth to products.
New product launches of vanilla represent only about 2% of the total launches in the UK (Mintel GNPD). However, it's clear to see that vanilla offers so much more than just a standalone flavour profile. Vanilla has long been used as a component to add complexity to chocolate, this is particularly the case within bakery products, as 20% of bakery launches in the UK containing vanilla were 'chocolate' products, according to Mintel GNPD. The complexity and versatility of vanilla is also evidenced by the variety of bakery products in which it is used and the flavour profiles it is used to enhance.
(Source: Mintel GNPD)
The vanilla quality benchmark
The provenance of Madagascan vanilla has made it the global benchmark. At Synergy, we source the highest-quality Madagascan vanilla beans to produce extracts that complement our versatile range of vanilla solutions. In negotiating our vanilla supply, we ensure that traceability and the standards of quality, processing, packaging, insurance of goods, paperwork and shipping of finished goods are consistent for all our global customers. Our partners in Madagascar use traditional growing and harvesting methods, alongside modern technology to produce the highest-quality vanilla available.
The vanilla is harvested and taken to a processing facility, where it goes through the process of scalding, steaming, fermentation and enzymatic maturation. It is then dried in the sun and the shade, before being exported to Synergy's manufacturing sites in the UK, US, Brazil and Thailand, with the extraction taking place in the US and the UK. A unique extraction process preserves the full profile of the vanilla bean, delivering its rich aroma and a blend of more than 200 flavour compounds that are naturally present in vanilla extract.
Synergy's 100-year-plus vanilla heritage and ongoing expertise enables us to offer the latest profiles relevant to the market across the bakery and wider food and drink industry. Combining traditional and modern extraction technology with sensory analysis and flavour creation, we offer a wide range of customisable vanilla solutions depending on market and customer need. Our vanilla portfolio includes organic and conventional Madagascan extract, natural-named flavours and natural flavourings. With some markets more price-sensitive than others, cost-effective vanilla flavouring solutions are available, including natural flavourings that mimic the flavour profile of an extract.
For more details go to https://uk.synergytaste.com/