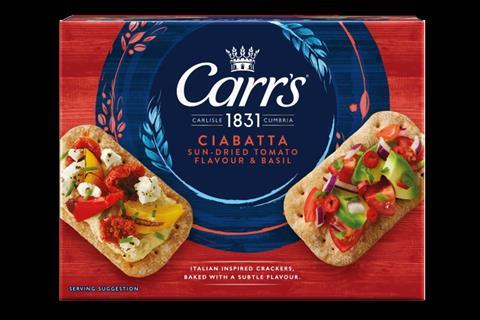 Pladis has revamped its Carr's cracker brand for the first time in almost 10 years with a £1m redesign and revised product line-up.
The global snacking company has added a Black Olive variant to Carr's Melts range, which features Original and Cheese flavours.
Described as 'deliciously-crisp wheaten biscuits', the new flavour is available from retailers for an rsp of £1.49 (150g).
Pladis has also transferred crispbreads, flatbreads and ciabatta previously sold under the Jacob's brand to the Carr's family.
The crispbreads are available in Mixed Grain, Mixed Seed and Chive flavours (rsp: £1.50), the flatbreads in Mixed Seed and Salt & Pepper (rsp: £1.80), while the ciabatta is available in Original and Sundried Tomato & basil variants priced £1.60.
The company said Carr's new logo reflected the Cumbrian heritage of the brand with the founding date and location now a feature, while the packaging has been updated to feature 'artisanal foodie cues' together with 'why not try' serving suggestions curated by Pladis' lead chef, Mark Schomberg.
"We pride ourselves on the quality, flavour and signature texture of our products, along with the unique heritage story of JD Carr; with the redesign taking inspiration from the same founding values and craft, which still inspire our products today," said Alex Payne, marketing brand manager, Carr's, Pladis Uk&I.
"It's these baking, innovation and culinary values that shape our products – so we've made these USPs a real focus as we relaunch Carr's to the UK market."
The brand has also partnered with Michelin-starred TV chef, Tom Kerridge, to create a series of online recipes across Instagram under the name Carr's Creations in a bid to inspire consumers to broaden their palates, raise brand awareness and increase an association with high quality, artisanal food.