Cake decoration is one of the most creative and artistic expressions of a baker's skills – yet there are times when the traditional hands-on approach just isn't right for the task.
Whether it's a question of enabling mass production or answering a lack of skills, automation has a big role to play in delivering sweet treats to consumers, and can also help bakeries tap demand for greater variety and bespoke products.
"Bakery processes have to become faster and much more adaptable if they are to meet the challenge. In practical terms, such variety calls for flexible automation," says Nigel Platt, UK and Ireland business line manager at ABB Robotics.
Businesses of all sizes can potentially benefit from automating their decorating operations, and even a small bakery producing a few hundred cupcakes a day may find a small tabletop depositor makes a big difference to their operation.
Unifiller supplies the Compact Series depositor that can dose batter portions into cupcake tins. After baking, a needle can inject the cupcakes with filling, while adding a nozzle and bakery tip will enable the machine to dose frosting onto the cupcakes.
"It's an ideal machine for any bakery looking to speed up production, for small volumes, at a low cost, while minimising product waste," says Unifiller marketing director Sonia Bal.
Waste is a concern whatever the size of business, and Unifiller states that its most popular equipment, the Cake-o-matic (COM), can help reduce this. The COM automatically top- and side-ices a round cake in less than two seconds, with a built-in computer that changes icing texture from batch to batch by automatically adjusting to the changing consistency.
"It's a very popular machine for bakeries struggling to get trained labour or that need to efficiently and quickly base-ice cakes without too much waste," adds Bal.
The COM can operate as a standalone machine or be integrated into a larger cake-decorating system. A Unifiller automated cake line typically finishes up to 12 cakes a minute and includes modules for midfill, side icing and top icing. Optional modules are available for slicing, syrup spraying and finishing operations such as drizzling, writing, rose application and bordering.
Robotic automation can also help bakers deliver bespoke products, suggests Platt at ABB Robotics. "It can help them become flexible and achieve personalised production in quick turnarounds," he says. "Robots can be programmed with a wide variety of instructions."
As well as decorating, robots can be used for high-speed cutting. ABB worked with UK confectionery producer Boomf, which enables consumers to print their choice of photos, graphics and messages onto marshmallows. Manually cutting the marshmallows into squares used to take five minutes, but a robot cell has now reduced the cutting process to just 17 seconds.
Collaborative robots (cobots), such as the Baker-Bot by Apex Motion Control, can work alongside human staff. This is designed to integrate into a bakery production line for continuous cookie, cake and pastry decoration, and is also suitable for sheet pan loading and unloading.
"Production staff can continue to work alongside the process adding other final human touches without having to touch the products themselves, greatly reducing the risk of potential contamination," says Platt.
"As more consumers demand products suited to their specific tastes, bakeries will increasingly embrace robotic automation to deliver sustainable, personalised goods."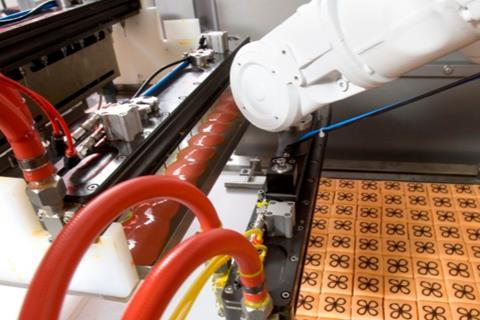 Case study: De Bakker Patisserie
ABB Robotics helped Dutch baker De Bakker Patisserie increase its production of petits fours, comprising layers of cake, jam, buttercream and marzipan.
Supplied to retailers and hotels, production of the petits fours requires intermediate freezing. As layers are added, the products need to be taken offline and placed in a freezer, and the final product is also frozen.
Many of De Bakker's customers want their petits fours to have a bespoke decorative icing, often with their logo. This was previously done manually, which was time-consuming and limited the number of products De Bakker could make each day to around 6,000, using two staff.
The solution was to use a graphics pad and software developed by Dutch business Hacos, alongside ABB six-axis robots. This resulted in increasing potential production to 30,000 cakes daily, using just one person.
The cakes are made using a semi-automated process. Then they are frozen, sliced into three 1cm layers and placed on the cutting machine to be cut to the required size. Cream, jam and buttercream are added, followed by a new layer of cake, more buttercream and marzipan. Then the pallets go into the freezer.
At this point, the rectangular product is cut into individual square units, which are separated, enrobed, cooled and finally decorated. The robots are then used to add distinctive designs to the top of the cakes in one or two colours.
Collaborate for better results
Unifiller marketing director Sonia Bal explains how the business works with bakers:
"We've installed machines at various sizes of bakery – ranging from stand-alone decorating machines to fully automated lines.
"We go through a consultation process to help analyse several aspects of a bakery's operation – mixing, freezing, portioning, etc – before we make a recommendation.
"We also want to understand the elements of the final product, and the key driver or challenge faced by the bakery. All this helps us to recommend equipment that's an ideal fit for the bakery. We want to make sure our customers see the return on investment quickly."