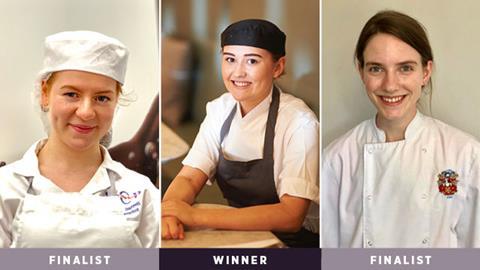 Award category sponsored by Rondo
Winner: Megan Roberts, AB Mauri
Ambition, graft and courage are three of the qualities that have made Megan Roberts stand out as a rising star.
Roberts cites Dawn Gemmell, former dean at University College Birmingham (UCB), for pushing her to always strive harder, and the fact she has done so and challenged herself is apparent. "I love to keep learning and was determined to do different placements," says Roberts. And she made true on her pledge: winning a place on a Worshipful Company of Bakers' course held at Bakels, taking an internship at Zeelandia and, together with UCB colleague Jessica Dalton, presenting live at last year's British Society of Baking autumn conference.
She also became Dawn Foods' student ambassador, before attaining a place on a summer course in Weinheim, thanks again to the Worshipful Company. Roberts is also no stranger to awards success: shortly after starting her degree in bakery and patisserie technology at UCB, she was a finalist for a pastry scholarship at Le Cordon Bleu, then attained silver in a Callebaut chocolate competition.
Having completed her degree course, Roberts secured a job as research and development technologist at AB Mauri.
"I am so pleased for Megan, her tenacity and love for the industry
shone through, she is a truly gifted young lady and her future
employers are very lucky to have her."
Richard Tearle, general manager at sponsor Rondo
Finalist: Grace Booth, The National Bakery School (NBS)
Grace Booth worked as a model for a year before deciding it was not for her. Instead, she followed her passion by enrolling on a BSc Baking Technology Management course.
"There is nothing like the joy of producing fresh bread – weighing out the ingredients, placing the loaf in the prover, and then cutting that first slice," she says.
Booth recently led a student team in a competition to create a vegan breakfast bar, using leftover fruit juice pulp that would normally be discarded. "At first, the bar was not a success, but by the second competition we had altered both the flavour and sugar levels and we won," she explains.
Booth is enthusiastic about the role of social media, regularly posting about baking on YouTube, while her dissertation this year featured the topic Social Media: Make or Break for the Baking Industry.
She is also keen for the industry to engage with students from an early age. "Bakery companies need to go into schools and put on short courses: food tech wasn't even offered [at my school], let alone anything on baking."
Finalist: Katie Garrett, University College Birmingham (UCB)
Like many UCB students, Katie Garrett credits former dean of bakery Dawn Gemmell with her inspiration and success.
An all-rounder, Garrett makes great breads and pastries, but says patisserie is her real love.
"I have been vegan for five years, which has pushed me to be creative," she says. "I've hand-crafted vegan chocolates and, for the Alliance for Bakery Students & Trainees' (ABST) competitions, I created a vegan health bar, low in sugar, fat and salt. After many attempts, it ended up a medal winner and I was offered a work placement as a result."
She has also created a three-tier gluten-free wedding cake and won various medals including gold in the ABST's Founders Cup and shortbread category. Garrett has participated successfully at other events including Salon Culinaire and Cake International and assisted chefs at the Royal Academy pastry competitions.
She is currently working on her BSc with Honours at UCB, and, in five years' time, hopes to be working on the technical side of the baking industry.