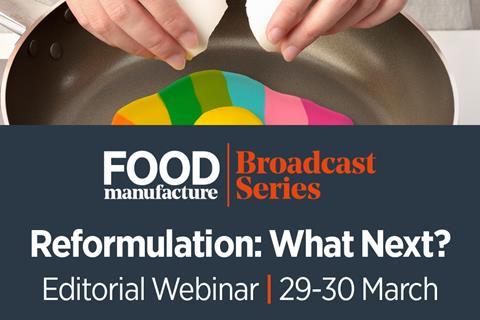 British Baker's sister brand Food Manufacture is to host an online conference on reformulation.
Fresh restrictions on promoting foods high in fat, salt and sugar (HFSS) are due to be rolled out this year and the government's response to Henry Dimbleby's National Food Strategy, which explores strategies for tackling obesity, is expected shortly.
Called 'Reformulation: What next?', the two-day event takes place on Tuesday 29 March and Wednesday 30 March, will feature the latest insights from manufacturing, nutrition, product development and legal experts.
Each day will feature five sessions incorporating presentations, one-to-one interviews and panel discussions aimed primarily at technical, NPD and regulatory affairs managers. Speakers at the online event include Elaine Hindal, director general of the British Nutrition Foundation, Tim Lang, emeritus professor of food policy at City University, and Carole Bingley, technical specialist, product and ingredient, at sponsor RSSL.
This event will examine emerging innovations and progress from the food industry to deliver healthier food and drink across the board.
However, reformulation to cut fat, salt and sugar content and fortification to boost consumption of important nutrients will not be the only focus. The conference will cover other essential areas of reformulation, such as removing allergens, finding alternatives to animal-based ingredients in vegan products and preserving quality while using more cost-effective ingredients.
Here's a snapshot of the sessions taking place:
The challenge: what are consumers eating and what are the effects? – This discussion panel with Tim Lang and Elaine Hindal explore what dietary role fat, salt and sugar should play and the challenges of reducing these ingredients in food and drink. It will also address what role food manufacturers need to play here and the progress that has been made so far.
Clean label: optional extra or essential? – Demand for natural, clean label products remains a top trend, although there are suggestions it may be more of a priority in some categories than others. How can manufacturers balance the drive to reduce FSS with the push for cleaner labels? Which categories are overdue for further development?
Plant-based innovation – The profile of plant-based products has never been higher. This session will explore demand for such products and the most promising innovations offering functional alternatives to animal-based products for consumers with uncompromising expectations.
For more information and to book your tickets, which cost £250 plus VAT, for this highly topical and comprehensive event visit Reformulation: What Next? now.