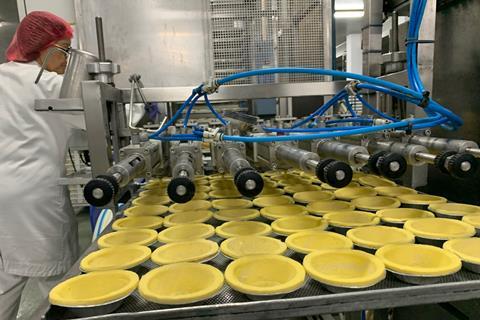 Sweet bakery manufacturer Baker & Baker has signed an agreement to buy Portuguese pastel de nata maker Peipen.
The deal represents the first strategic acquisition by the company since splitting from CSM Bakery Solutions and launching as a standalone business in April 2021.
Baker & Baker has acquired the order book, all equipment and machinery, and has assumed full responsibility for the personnel – entering into a long-term rental agreement with the original owners for the real estate and building.
Based in Peniche, just to the north of Lisbon, Peipen has been a direct supplier to Baker & Baker for a number of years. The acquisition brings production in-house, facilitating further capacity for pastel de nata growth while providing space for expansion through the installation of additional sweet bakery lines, Baker & Baker said.
The Peniche site employs around 60 people, and all employees have been transferred to Baker & Baker from the start of September.
The Wirral-headquartered company's pastel de nata portfolio has delivered 'strong annual sales', Baker & Baker said, and the business anticipates further growth and customer listings following the acquisition of Peipen's operations.
The Peniche site has a total footprint of around 5,000m sq. The factory currently produces around 1,000 tonnes a year, and Baker & Baker said there is scope to introduce additional product lines and equipment.
As well as the traditional Portuguese custard-filled tarts, the site currently manufactures other, non-bakery product lines, which will be discontinued by the end of 2022. Baker & Baker said this will further facilitate additional capacity as the site becomes fully focused on speciality bakery products.
The Peniche site is the third manufacturing location operated by Baker & Baker in Portugal, in addition to Santo Tirso and Sāo Joāo da Talha.
"We're thrilled to have concluded the acquisition of Peipen, which is a strong business that has supported us as a supplier for many years," said John Lindsay, European CEO at Baker & Baker. "The facility complements our existing portfolio by adding an attractive, core bakery line and supports our move towards developing our speciality laminated business in our growing Iberian market and quickly adds much needed capacity.
"We're confident that Baker & Baker Peniche can deliver further growth for our business, through additional pastel de nata listings and the introduction of additional speciality bakery lines," Lindsay added.