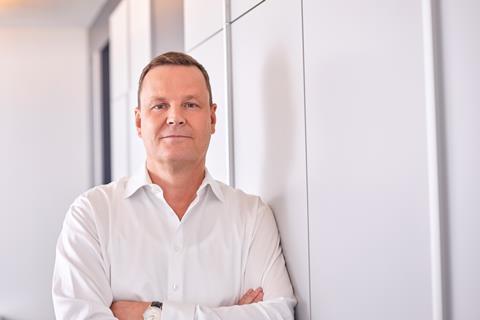 Chocolate manufacturer Barry Callebaut has appointed Peter Feld as CEO with immediate effect.
German national Feld succeeds Peter Boone, who is stepping down for personal reasons.
Previously CEO of investment firm Jacobs Holdings, Feld has leadership experience on almost every continent. He has headed market research company GfK, and WMF Group, a premium cookware and professional automatic coffee machine maker, and successfully developed both companies further, concentrating on 'customer centricity, digitisation, and corporate culture to drive future readiness'.
He has also gained experience at Procter & Gamble, Johnson & Johnson and Beiersdorf.
"It is a great honour to assume responsibility as CEO of Barry Callebaut," Feld said. "Chocolate is a life-long passion, even more so as I started my career in the food industry. I am very much looking forward to bringing my leadership experience to Barry Callebaut and am excited about writing the next chapter of our success story together with the entire team."
The news came as the business posted its half-year results, which show a 3.7% increase in revenue to CHF 4.2 billion for the six-month period ending 28 February. However, volumes were down 2.9%.
Looking at the EMEA region, volumes fell 3.7% although revenue was up 8% to CHF 1,842.5 million. Operating profit also increased to CHF 205.1 million as a result of the group's 'ability to pass on higher costs amid the general inflationary environment and a positive mix effect'.
It highlighted the price developments of its most important raw materials – cocoa beans, sugar, and dairy – for the period, noting an 11.3% and 83.4% increase for cocoa beans and sugar, respectively. The latter, which represents prices on the European market, was primarily due to low stocks coupled with a poor crop and high energy prices. The world market price for sugar, meanwhile, increased on average by 5.3% on the back of lower sugar exports from India.
Conversely, dairy prices decreased by 6.1% during the first six months of the fiscal year as milk supply increased across the globe while consumer demand slowed.
"In the first six months of the fiscal year we delivered strong profitability, reflecting the strength of our business model, which includes continued cost leadership in a highly inflationary environment, and good product mix," said Barry Callebaut Group CFO Ben De Schryver.
"Against a high comparator, we witnessed progressive volume recovery, albeit slower than expected. This was due to the temporarily limited availability of our global brands and weaker than expected customer demand in an inflationary environment."
Looking ahead, De Schryver added that the group is confident it will deliver "continued strong operating profitability" in the second half of the year, although volume growth will be "flat to modest" for the full-year 2022/23.