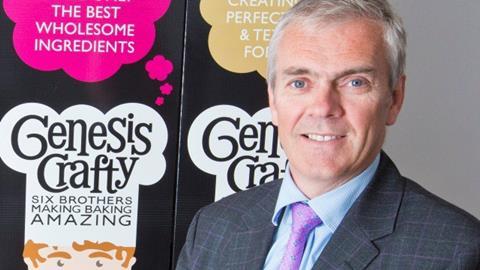 Northern Irish firm McErlain's Bakery – producer of the Genesis Crafty range and own-label cakes and breads – has been sold as a private investment to the boss of snacks supplier Tayto Group.
The pre-pack deal follows a difficult trading period for the business, which resulted in Andrew Dolliver and Luke Charleton of EY being appointed administrators of McErlain's today (21 August).
McErlain's had worked with the administrators ahead of entering administration to find a buyer, and the business has continued to trade as normal, with the 260-plus jobs at its factory being saved.
Brian McErlain (pictured above) will continue as managing director of the Magherafelt-based business, which makes cakes and breads for retailers including Marks & Spencer, Waitrose and Tesco.
"I'm delighted the jobs at the factory have been secured and that Brian will be staying on as MD," said new owner Paul Allen, who is CEO of Tayto Group. "I see this as a very sound business with great potential."
Allen will remain chief executive of Tayto, with the acquisition a private investment by him and his family.
"The McErlain family have built a great business, with excellent products which have national markets. I'm hoping that, in my non-executive role with the company, I will be able to use my experience in the industry to help guide the growth of both the Genesis Crafty brand and the overall business."
McErlain described this as a time of mixed emotions: "Sadness that it is now a different family who own the business, but hope for the future and the growth of the Genesis Crafty brand."
He added that Allen's ability was very well respected in the business community in Northern Ireland and further afield, and said he believed his involvement would be of benefit to the company.
"I'd like to pay tribute to all our staff, customers and suppliers, who have been through some difficult times with us and whose support we have really appreciated."