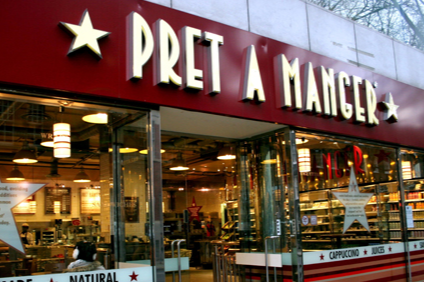 Pret's strategy of focusing on regional and suburban areas is paying off according to its latest half-year results, with revenue reaching £357.8m for the period.
The figure represents a 230% and 160% rise for the equivalent periods 2021 and 2020, respectively. What's more, UK sales growth outside of London outstripped growth in the capital, both on a like-for-like basis and in total revenue. This, said Pret, reflects the sustained growth of the company's regional shop estate as well as the impact of new shop openings in Brentwood, Harrogate, Leeds and York.
Today, 66% of Pret's UK shop portfolio is outside of the City of London, with 36% of UK shops located in provincial cities and towns. In August 2021, the chain announced plans to extend its presence in regional locations to reflect changing consumer habits resulting from the Covid-19 pandemic.
"Two years ago, we said we wanted to bring Pret to more people," said Pano Christou, Pret chief executive officer. "During the first half of this year, we not only delivered on that pledge, but we also grew fastest in some of the places where we only had a handful of Pret shops before. That's a fantastic result and shows how big the appetite is for freshly prepared food and organic coffee in towns and cities across the UK."
Pret's H1 report shows the business returned to profitability in March and has been operationally cashflow positive since May. The results come as Pret also filed its 2021 accounts with Companies House, which show revenue for the year was up 17% to £461.5m. The business also registered an operating loss for the year of £225.9m, down from £343m in 2020.
The coffee and sandwich giant has recently announced a number of deals with franchise partners to extend its overseas presence in territories including the island of Ireland, Canada, the Iberian peninsula and the Middle East. CEO Christou believes the company now has an opportunity to apply its growth figures internationally.
"Since the start of this year, we've signed four new partnership agreements to take Pret into new global markets," he said. "The second half of this year will be about taking that a step further, while continuing to run our business with the fast, friendly, joyful service which has made Pret what it is today."