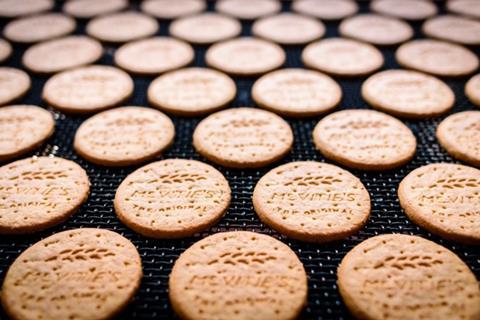 Pladis-owned United Biscuits saw a drop in revenue of almost 2% in 2021, with profits also down after a strong rebound from Covid-19 in the previous year.
The company – whose portfolio includes McVitie's Digestives, Jacob's Cream Crackers, Jacob's Mini Cheddars, Penguins and McVitie's Jaffa Cakes – posted sales of £852m for the year ended 31 December 2021, compared with £868m for 2020. Pre-tax profit was £63m – down from £75m for the previous year – while adjusted EBITDA was £132m, against £136m for 2020.
Despite the drop in sales – which United Biscuits said was mainly attributable to its export business – the figure for 2021 compares favourably to the firm's pre-Covid revenue of £833 posted in 2019. The company's accounts also noted a decline in the grocery market for biscuits in the UK of 1.8% in 2021 'as the market lapped a strong comparator of 2020'.
"We experienced a significant uplift in sales in 2020, as consumers turned to trusted brands during the pandemic and consumption moved in home while in lockdown," a Pladis UK&I spokesperson told British Baker.
With operating profits falling 15% to £70.6m in 2021, the spokesperson cited the ongoing adverse impact of Covid-19, "with demand and supply fluctuation creating a mix of challenges for the industry – from shipping disruptions to the short supply of packaging and an increase in the cost of key ingredients".
"Combined with other global issues, such as mounting energy prices and labour shortages, it has presented unprecedented challenges," the spokesman said.
"As a market leader in biscuits, we're confident we're taking the right steps to secure product supply despite the very challenging context to ensure our consumers continue to have access to and enjoy our biscuits, chocolate and snacks."
In March, Pladis announced a proposal to restructure its McVitie's factory in Manchester, which it warned could result in the loss of 159 out of 470 jobs.