Cakes are the ultimate comfort food. We celebrate with them, take a tea break with them, and even turn to them for a pick-me-up in the middle of a global pandemic.
Quite often, though, we find comfort in the familiar, and that's why consumers turn to certain cakes time and again. These special treats have an enduring appeal that elevates them and leaves them standing as fads fall away. Think Victoria sponge, Battenburg, and lemon drizzle.
But sometimes familiarity breeds insularity. Perhaps Britain's bakers would benefit from looking beyond their own shores to explore cakes from across the world that have achieved classic status in their home countries. They might discover fresh flavours and combinations to broaden baking horizons and uncover potential for new products and untapped tastes.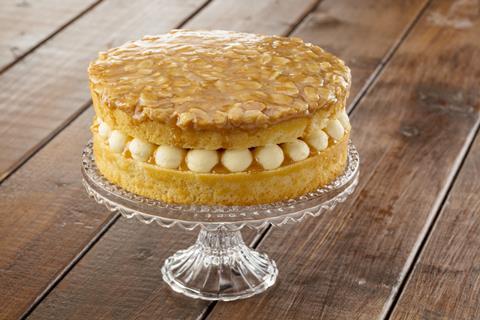 Close to home
Starting with our closest neighbours in Europe, it's reassuring to learn in these post-Brexit times that there still exists an entente cordiale of sorts when it comes to cakes, with plenty of common ground.
"When we look beyond the British bakery scene, you'll be surprised just how many classic cakes are enjoyed here in the UK and have become part of our repertoire," observes Talia Profet, head development chef at deZaan Cocoa. She cites Germany's time-honoured Black Forest gateau and France's festive favourite bûche de Noël – aka the Yule log – as examples.
Even the less familiar classic cakes from around Europe tend to have plenty in common with their British counterparts.
"Ninety percent of them are egg, flour, sugar and fat-based," explains Profet, "but where they do differ is in the techniques and the classic methods used by that country."
Some territories, for example, favour a light and fluffy genoise sponge, ideal for layer cakes; others make use of a heavier, dense sponge to provide a robust medium for moist fillings or recipes incorporating fruits or alcohol.
Vicci Forward, patisserie application specialist at Puratos, also notes the similarities across the continent but points out the 'little differences' in Europe. "The French typically add almonds, while the Germans prefer to add fruit such as cherries or apples," she explains.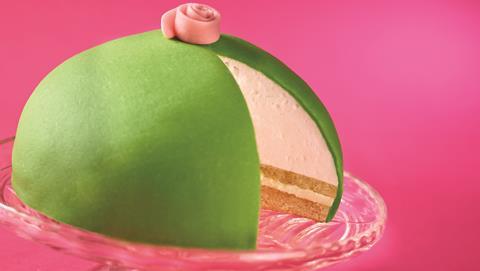 History in the baking
Many of the European classics are as rich in history as they are in taste. Austria's sachertorte, for example, dates back to 1832 when Viennese confectioner Franz Sacher is said to have invented the delicacy for Prince Metternich. It consists of a dense chocolate sponge with apricot filling and an extravagant, shiny covering of chocolate glaze.
The origins of opera cake, from France, are the subject of some debate but one school of thought dates it back to 1890 as an invention by the Paris Opéra itself. However, made with layers of light almond sponge cake soaked in coffee syrup, filled with coffee buttercream and covered with a chocolate ganache, its status as a classic is not disputed.
Heading further south, Italian classics include the Sicilian cassatella di Sant'Agata (also known as minni di Sant Aita, or Saint Agatha's breasts), which comprises a plain sponge, ricotta and chocolate filling and a covering of marzipan and candied fruits.
Consumers are certainly more refined in their tastes and appreciative of the complexity of these cakes thanks to programmes such as Bake Off
For a gluten-free option, there's torta caprese, originating from Capri and popular in the Naples region. Made without flour, it's an almond and chocolate cake, low on thickness with a crisp surface but soft and moist inside.
Although some of them go back centuries, Profet says these opulent, sophisticated cakes are growing in popularity among younger generations thanks to their photogenic qualities, ideal for Instagram. Impressive looking delicacies such as the princess gateau from Sweden, fraisier cake from France and German bee sting cake are guaranteed to garner likes and shares.
Profet also believes traditional media is playing a part. "Consumers are certainly more refined in their tastes and appreciative of the complexity of these cakes thanks to programmes such as Bake Off."
Also charting the trend towards the traditional, Forward believes consumers are turning to European classics to seek solace from an increasingly harsh reality.
"People have been seeking comfort from nostalgia and indulgence during these challenging times, so traditional and rich cakes such as the Black Forest and sachertorte have proved particularly appealing," she says.
The classic that Profet has seen rise above all others in recent times, however, hails from the other side of the Atlantic Ocean.
"Red velvet cake from the US, with its crimson-coloured chocolate layers and cream cheese frosting, is certainly a crowd pleaser," she says. "Its popularity has seen the original cake recipe adapted and influence all manner of bakes including cupcakes, brownies and pastries. It's the original unicorn."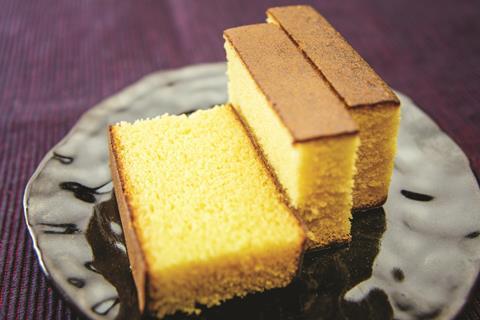 Eastern promise
So where should we look for lesser-known classics that have the potential to catch on and rival the current favourites? The answer could be Asia – starting with the subcontinent.
"Although India is big on confectionery known as mithai, there are also a few traditional classic cakes enjoyed in certain parts of the country," says Vaishnavi Vora, a second-year bakery and patisserie student at University College Birmingham and one of Dawn Foods' student ambassadors.
Vora offers the example of ghevar, a traditional disc-shaped cake fried in ghee, soaked in sugar syrup and infused with saffron and cardamom. Served with malai (milk fat) and decorated with silver leaf, it's traditionally enjoyed during the Hindu festival of Raksha Bandhan.
Another Indian classic with festive roots is bebinca, a traditional Goan delicacy prepared for Easter and Christmas. Made with egg yolks, ghee, sugar, coconut milk, flour and nutmeg, it's baked using an unusual method of adding multiple layers of batter and ghee.
"All these cakes would make for a fantastic Indian afternoon tea experience served with masala chai," says Vora.
In Asia, large and elaborate cakes are foregone in favour of individual, bite-sized confectionery that is simple and elegant
Travelling even further east, mooncake is a Chinese classic offered between friends and family during the Mid-Autumn Festival. Traditionally, it comes in the form of a round, thick pastry filled with lotus seed or red bean paste – although variations of filling have been developed in recent years.
Japan, meanwhile, offers us a truly international classic in the form of kasutera, or Castella, cake. Brought to Japan by Portuguese merchants in the 16th century, it has become a speciality of the Nagasaki region. The four main ingredients of strong flour, sugar, eggs and mizuame or honey are combined and baked to make a close-textured but fine and delicate cake. In a common theme for Asian desserts, it is usually served with no added decoration.
"In Asia, large and elaborate cakes are foregone in favour of individual, bite-sized confectionery that is simple and elegant," explains Francezka Bell, applications executive at Renshaw and Rainbow Dust. "The focus is very much on simplicity and deconstruction, bringing it back to basics and highlighting the flavour."
There are signs, though, that this approach is gaining favour with consumers in the UK.
"Pandan cake has definitely become a hit in the UK market," says Fulop Gabor, owner and manager of Fulham bakery and cake shop Jack & Beyond.
Originating from Indonesia, pandan cake uses a light and fluffy chiffon sponge, naturally coloured green from extract of pandan plant leaves. Once again, the cake is traditionally left plain with no additional decoration or frosting.
There are signs, therefore, that British consumers aren't just turning to the familiar when it comes to the classics.
Next time you're looking to refresh your bakery's offering, embrace the spirit of adventure and add an international flavour to your repertoire.