Pastéis de nata – otherwise known as Portuguese custard tarts – have taken the nation by storm in recent years.
Unit sales grew by more than 450% from October 2016 to October 2018, according to Lantmännen Unibake, and they have amassed sales of £11.6m, having more than doubled again in the past year.
"From grab-and-go street food to traditional cake shops and afternoon tea menus, the Portuguese custard tart or pastel de nata is everywhere, with whole stores dedicated to the sale of these iconic treats in London and beyond," says Kate Sykes, Lantmännen Unibake's marketing manager.
The key to a great pastel de nata, and what distinguishes it from a British egg custard tart, is the caramelised top and layered pastry. "A great pastel de nata should be completely handmade. The pastry should be layered and the oven should be super-hot to make sure you get that authentic caramelisation on top," says Stefanie Vigilante, brand and marketing manager of London-based bakery Galeta, where the tarts make up 30-40% of the bakery's sales.
Fans can even finish off a 'cheeky Nando's' with the treat, after London-based Madeira Patisserie started supplying the chain in the 1990s (although they stopped supplying the tarts in 2016).
"As Nando's grew and expanded throughout the UK, so did the Madeira pastel de nata," says Antonio Luis, general manager, Madeira. "From a few thousand a week in 1988, we now produce over 100,000 a week and more than five million per year."
Appearing on Bake Off in 2017 boosted the tarts' popularity. Galeta, which counts healthy fast-food chain Leon among its clients, noted a rise in orders after this, while Lidl's head of bakery Richard Inglis believes it helped to whet the appetite of the discounter's customers prior to the launch of its version as part of a trial.
As Nando's grew and expanded throughout the UK, so did the Madeira pastel de nata
"During the trial we sold over 2,000 every hour, resulting in excess of one million units flying off our shelves over an extremely short period of time. Since becoming part of our fixed assortment, sales have grown considerably and it continues to be one of our most popular bakery items," he says.
Their success in Lidl Portugal gave Inglis the confidence to trial them in the first place, although he attributes their impressive UK performance to the price as well as the quality of the products.
"We believe we've been a huge driving force in the UK for pastéis de nata as they were previously found only in high-end cafés at high-end price points. In our stores you will find them for only 49p," he adds.
Puratos' patisserie NPD and innovation centre manager, Matthew Bratt, believes the success of the pastel de nata is partly due to its ability to fulfil similar needs to grab-and-go items such as croissants.
"Pastéis de nata's size and portability have contributed greatly to their appeal as their handheld format answers the food-to-go trend more effectively than messier foods such as patisserie products," he says. "The Portuguese favourite is also very Instagrammable, especially when fillings are added."
These fillings range from a simple dusting of cinnamon to vibrant raspberries and blueberries as seen on Galeta's menu, while Madeira has taken things a step further with a matcha variant and a passion fruit & cocoa one.
"Any flavours that traditionally work well with custard also work really well with a pastel de nata. A slightly tart fruit compote can complement the sweet egg custard well, as can chocolate and cinnamon flavours," adds Sykes, "but citrus flavours, such as orange and lemon, are ones to avoid."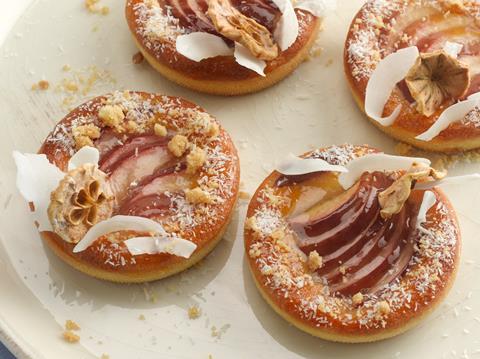 Can British pastry classics fight back?
As Portuguese custard tarts gain favour with UK consumers, can British classics such as apple pies, mince pies and turnovers keep up? Yes, but many in the industry believe a revamp is in order.
"Traditional flavour combinations will always have their place on the menu, but these can be delivered in a more contemporary way to bring classic dishes right up to date," says Olivier Ripoche, managing director UK, Brioche Pasquier.
Take mince pies, for example. While the classic iteration of shortcrust pastry and a richly spiced mincemeat isn't going anywhere, many retailers have sought to pimp their pies with interesting toppings, new flavours and even flavoured pastry.
This year, Lidl is offering up a florentine-topped version, as well as a gingerbread star one that has a lightly spiced pastry. Aldi, meanwhile, will be stocking Crumble Mince Pies in Black Forest and salted caramel variants, while Asda will be serving up booze-infused Sloe Gin Mince Pies.
Other treats beloved on the British Isles haven't escaped the traditional with a twist either.
"Adding other flavours can modernise traditional favourites and create a premium product that will command a high price point," notes Jacqui Passmore, marketing manager UK and Ireland, Dawn Foods. "Coconut and apple do not seem an obvious partnership but when blended in our Mini Coconut Apple Pies (pictured), the apple pie is given an up-to-date twist."
Dawn's recipe comprises a shortcrust pastry base, almond and coconut cake layer, apple filling and, for visual impact, sliced apple and coconut shards on top, combining a "traditional English apple pie with a French tarte aux pommes finish".
The French influence is growing, believes Brioche Pasquier's Ripoche, as consumers look for more sophisticated pastry products.
"As bakery has become increasingly fashionable, consumers are demanding more refined, precise and lighter pastries," he says. "Leading the way in trends for sweet pastry is the finesse and sophistication of Parisienne patisserie." As a result, he believes creating crisper, lighter versions of British classics could be successful.
Format, adds Lantmännen Unibake marketing manager Kate Sykes, is equally important.
"Bakers and manufacturers should think about what they can do to ensure they are delivering products that compete on indulgence," she says. "They also need to consider how they can revamp British classics to deliver on flavour and texture, as well as giving recipes an extra special twist to elevate them above other products."