Traditional with a twist sums up Aldi's Christmas bakery range for 2023. It features 11 types of mince pies, five festive puddings, and more chocolate desserts than you can shake a stick at.
Pigs in blankets inside Yorkshire puddings, crumble topped mince pies, and a maple fudge pudding are a few examples of this theme in action.
Here, we take a closer look at the sweet and savoury delights on offer at the discounter this year: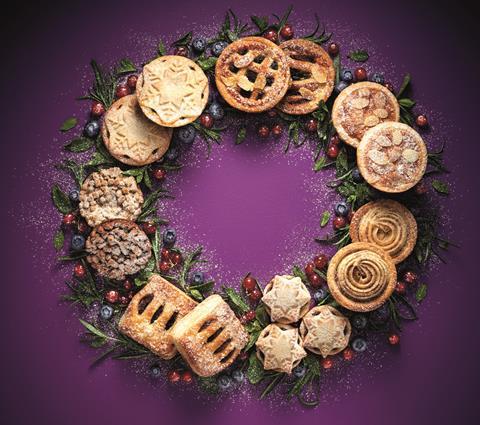 Mince pies
Aldi has gone big on mince pies this year with innovative new flavours, returning favourites, and classic iterations on offer.
Among the newcomers to the Specially Selected range are Ballycastle Mince Pies (£2.49, six pack), which are packed with mincemeat and finished with a swirled topping that's blended with Aldi's Ballycastle Country Cream.
Also new to the premium own label line-up are the Puff Pastry Mince Pies (£1.99, six pack) and the Caramelised Apple Crumble Mince Pies (£2.49, six pack). The latter combines traditional mincemeat with spiced apple chunks, topped with a signature crumble. Another crumble topped creation is the Millionaire's Crumble Mince Pies (£2.49, six pack) filled with salted caramel, chocolate, and hazelnut filling, and decorated with a sweet dusting.
Frangipane Mince Pies (£2.49, six pack), Mini Mince Pies (£2.19, nine pack) and boozy Jamaican Rum Tarts (£2.49, six pack) are also on offer, as well as All Butter Almond Tarts (£2.49, six pack).
Aldi has also added to its Holly Lane range with Iced Mince Pies (£1.39, six pack), which joins the Deep Filled Mince Pies (£1.25, six pack).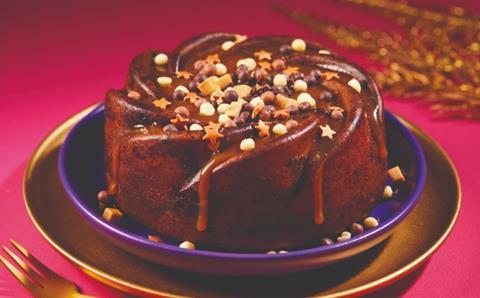 Millionaire's Pudding
Back by popular demand is Aldi's Specially Selected Millionaire's Pudding (£6.49, 450g). Described as perfect for chocolate lovers, this pudding is made with a chocolate sponge, Belgian chocolate chunks, and mini fudge cubes, all coated in edible gold glitter. It's drizzled with a sticky salted caramel sauce for a finishing flourish.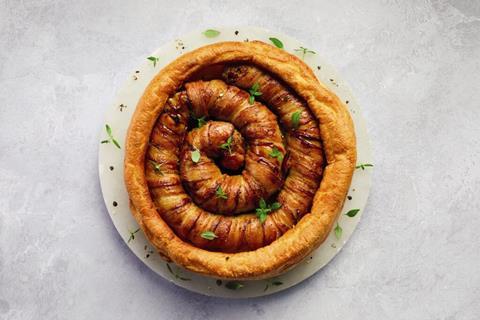 Giant Yorkshire Pudding Pig in Blanket
Another returning favourite is the Giant Yorkshire Pudding Pig in Blanket (£4.99). As the name suggests, it boasts a 60cm pig in blanket made from British pork nestled inside a Yorkshire pudding.
Double Chocolate Semi-Freddo Igloo
Fun for all the family! This igloo-shaped frozen dessert (£6.99) has a creamy semi-freddo mousse filled with layers of chocolate meringue, complete with an edible chocolate penguin.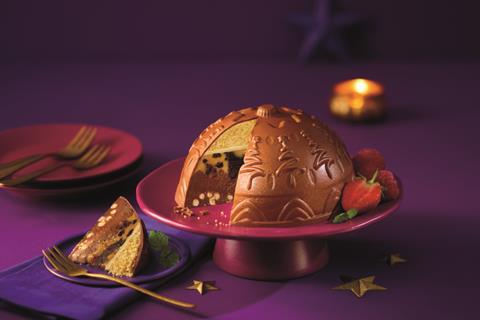 Millionaire's Filled Bauble
From igloos to baubles – novelty shaped treats are big in Aldi's range this year. This shaped dessert (£7.99) is filled with brownie bites, biscuit crumb, white chocolate stars, chocolate mousse, and a salted caramel sauce encased in a Belgian chocolate shell.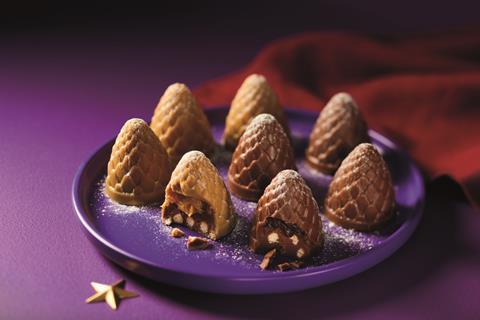 Ganache Pinecones
For those after something a little more bitesize, the brand-new gooey Specially Selected Ganache Pinecones (£3.99) are described as 'devilishly moreish'. Available in two flavours, shoppers can choose between milk chocolate & sea salt or blonde chocolate & caramel, both boasting a ganache base studded with biscuit balls and a centre oozing with sauce.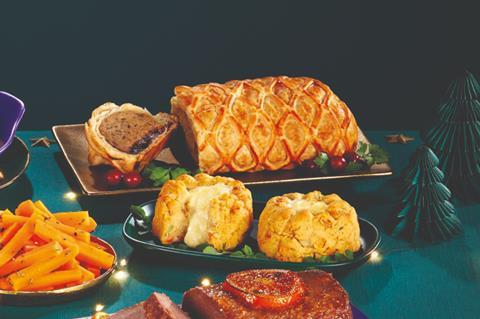 Festive Vegetable Wellington
One option for a vegan-friendly centrepiece comes in the form of the Specially Selected Festive Vegetable Wellington (£4.99). Packed with vegetables and cranberries, the Wellington is hand wrapped in vegan pastry. The Specially Selected No Beef Wellington (£4.99) – a soya-based beef inspired core topped with a roasted mushroom duxelles wrapped in flaky vegan lattice pastry is also returning for Christmas 2023, alongside the Specially Selected Vegan Festive Wreath (£4.99). The latter is packed with butternut squash, cranberries, chestnuts, and pumpkin seeds, topped with candied orange slices and a mulled festive glaze.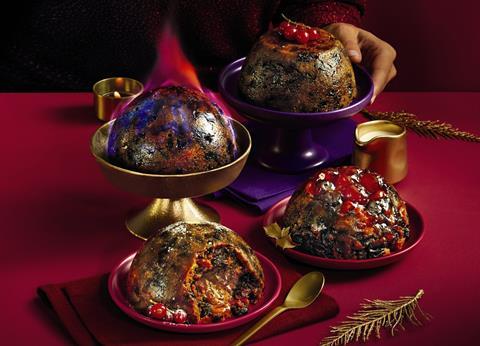 Festive puddings
Aldi has reinvigorated its Christmas pudding range with traditional and not-so-traditional options on offer. Embracing the warming flavours of the season is the new Maple Fudge Pudding (£4.99), a Christmas pudding made with vine fruits, cider, mini fudge pieces and maple syrup, all topped with a sticky toffee sauce.
There's also the Specially Selected Champagne Pudding (£4.99), which is filled with juicy vine fruits, glacé cherries, cranberries and nuts blended with cider, brandy and Champagne. This boozy dessert is topped with whole cherries, almonds and a splash of Marc de Champagne brandy
Aldi also has the 18-Month Matured Christmas Pudding (£7.49) available as well as a Specially Selected Sticky Toffee Pudding (£8.99) made with a dash of white rum, candied citrus peel and all topped off with a gooey toffee sauce and fudge pieces.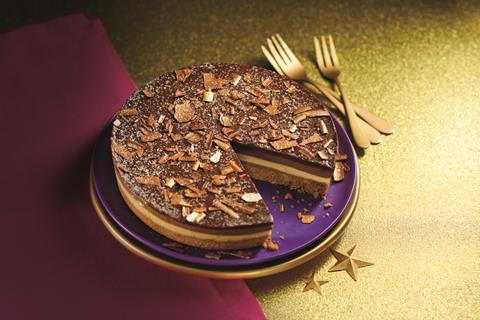 Billionaire's Cheesecake
This indulgent cheesecake (£8.99) weighs in at nearly 1kg. Part of the Specially Selected range, it has a digestive biscuit base topped with creamy cheesecake, caramel sauce, chocolate ganache and a cocoa dusting, all finished with milk chocolate shards.
The biscuit-based behemoth is joined on shelf by two new Novelty Cheesecakes (£3.99) – a vanilla cheesecake with a chocolate reindeer on top and a chocolate cheesecake with a white snowflake.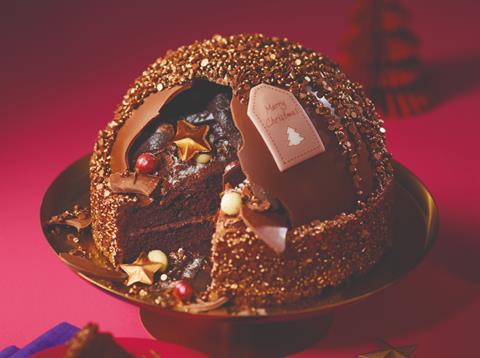 Smash Dome Cake
Described as a cake lover's dream with a showstopping twist, the Specially Selected Dome Cake (£14.99) features a layered chocolate cake topped with a Swiss chocolate dome that once smashed reveals chocolate ganache and festive sweet treats.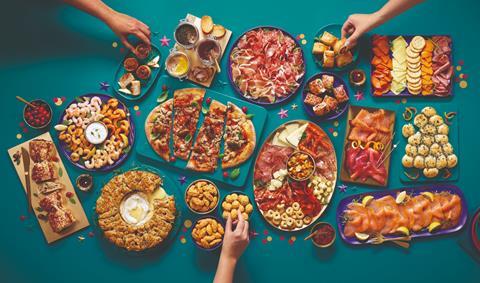 Party food
There are bakery products galore among Aldi's festive party food range, including Mini Yorkshire Puddings (£3.99) stuffed with British beef and a touch of horseradish sauce, as well as Mini Beef Wellingtons (£3.99) and Mini Pies (£4.79) available in steak & ale and chicken, bacon & leek variants.
Also returning is the Let's Party Garlic Doughball Tree (£2.69), Pigs in Blanket Pizza (£4.49), and Specially Selected Cracker (£4.49), which sees pulled pork and pancetta with cranberries wrapped in a butter-enriched pastry with a paprika crumb. It's also available for vegetarians with a Wensleydale and cranberry filling.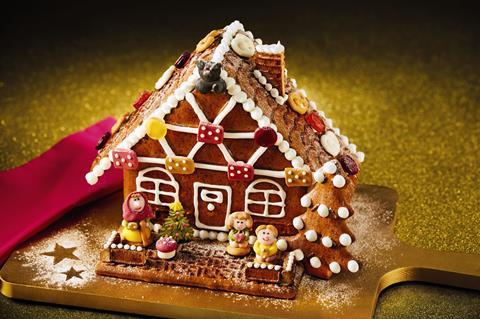 DIY Gingerbread House Kit
This gingerbread house kit (£5.99) comes complete with a pre-baked gingerbread base and decorations to help shoppers create their own edible decorations.