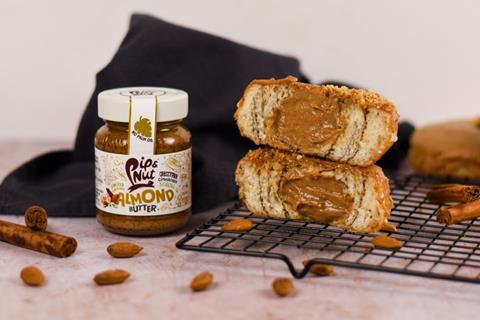 Bakers are joining forces with food & drink brands to create new products.
From savoury pastries to sweet doughnuts and indulgent chocolate cakes, new products are hitting the market.
Here, we take a look at some of the latest collaborations:
Bridor and The Laughing Cow
French bakery manufacturer Bridor has partnered with global cheese producer The Laughing Cow to launch an indulgent Cheese Lattice.
Designed to cater to both the snacking and lunch markets with an on-the-go format, the ready-to-bake savoury pastry is made with Bridor's pure butter croissant dough and filled with The Laughing Cow cheese.
The product branding has been designed specifically to improve shelf appeal, Bridor said. Packaged in The Laughing Cow brand colours to increase visibility, and in practical greaseproof paper, the new Cheese Lattice is suited to different moments of consumption throughout the day.
"Snacking is becoming more widespread for consumers worldwide, so we are pleased to have launched a product with The Laughing Cow that caters towards this trend," said Erwan Inizan, UK sales director at Bridor.
Ginger Bakers and Lakes Brew Co
Cake specialist Ginger Bakers has teamed up with Cumbrian-based brewery Lakes Brew Co to create a limited-edition Chocolate & Stout Loaf Cake.
The cakes have been crafted by the bakery's resident cake development team who have spent weeks baking and refining the recipe to create a 'showstopping cake', according to the firm. Made with Lakes Brew Co Breaking Origin Imperial Stout, the dark chocolate sponge is complemented by the stout's underlying flavour profile of coffee, tonka bean and cocoa, and is topped off with a layer of cream cheese icing.
The collaboration has been further cemented by the label artwork they have both chosen to use on their respective products, with both featuring a piece of work called Langdale Dawn, created by acclaimed Cumbria based artist, Paul Bennett.
Ginger Bakers & Lakes Brew Co's Limited Edition Dark Chocolate Stout Cake is available for nationwide delivery priced at £7.00, plus postage and packaging.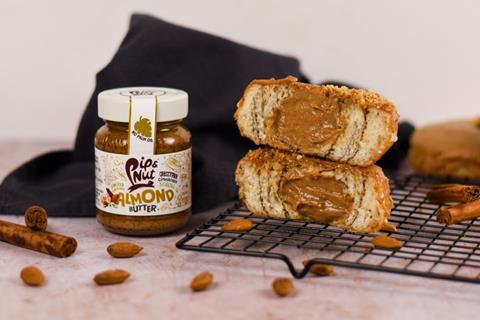 Crosstown and Pip & Nut
Crosstown has joined forced with nut butter brand Pip & Nut to create two limited-edition vegan products.
Crosstown will be selling Almond Butter Cinnamon Scroll doughnuts. They comprise the firm's vegan cinnamon scroll, filled with a homemade custard and featuring Pip & Nut's Smooth Almond Butter, topped with an almond butter glaze, and finished with a roasted almond nib crumble (£4.50).
Pip & Nut, meanwhile, has crated an almond butter inspired by the doughnut which sees Mexican agave, Zanzibari cinnamon and Tongan vanilla blended with Pip & Nut's signature almond butter.
To celebrate the launch Crosstown and Pip & Nut will be handing out 800 free doughnuts and almond butter jars. The first 200 people to visit each of Crosstown's Soho, Shoreditch, Victoria and Cambridge stores from 12pm on 30 March will each receive a Crosstown Almond Butter Cinnamon Scroll Doughnut and jar of Pip & Nut's Cinnamon Scroll Almond Butter.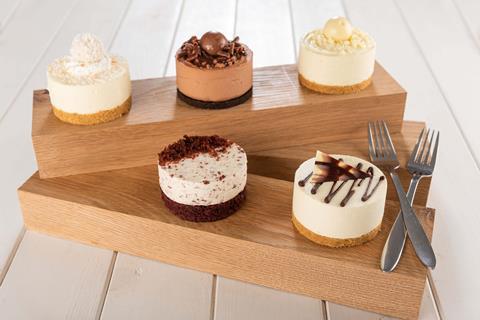 Just Desserts and Lindt
Yorkshire-based Just Desserts has unveiled a new range of luxury cheesecakes featuring well-known brands.
The five new additions will be widely available to the farm shop, deli and hospitality markets and come in response to an increasing demand for the firm's existing range of luxury cheesecakes which include Lotus cheesecake, Ferrero Rocher Cheesecake, and Oreo Cheesecake.
The new line-up, which is the first to be launched after the acquisition of Regal Food Products Group, comprises:
Raffaello Cheesecake – a biscuit crumb base topped with coconut flavored cheesecake, finished with toasted coconut, fresh dairy cream and Raffaello truffle
Lindt Chocolate Cheesecake – a chocolate crumb base topped with dark chocolate ganache, finished with milk chocolate curls and Lindt Lindor milk chocolate truffle
Lindt White Chocolate Cheesecake – a biscuit crumb base topped with white chocolate cheesecake, finished with white chocolate curls and Lindt Lindor white chocolate truffle
Philadelphia Cheesecake – A digestive crumb base topped with Philadelphia cream cheese mousse filling, finished with chocolate drizzle and marble chocolate shard
Red Velvet Cheesecake – a chocolate red velvet sponge base topped with red velvet icing, finished with red velvet crumb.