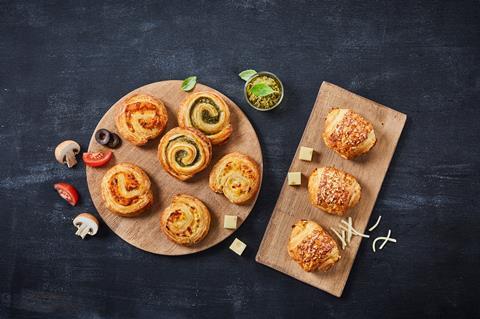 Bridor has rolled out a range of four mini vegetarian bakes aimed at the snacking market.
Made from 100% butter puff pastry, the snacks are ready to bake from frozen and can be eaten hot or cold.
The range comprises:
Mini Pizza Swirl (35g) – it features a traditional Italian recipe with tomatoes, mushrooms, black olives, onions, garlic and basil
Mini Cheese Swirl (35g) – this includes a creamy Emmental centre and crispy dough
Mini Pesto Swirl (30g) – the bake contains basil, cheese and garlic filling
Mini Cheese Extravagant (35g) – this is made up of a puff pastry roll with an Emmental centre and Emmental topping.
The three swirls are available in boxes of 225 for £33.75 and a mixed box of all three is also available. The Mini Cheese Extravagant, meanwhile, is sold in boxes of 180 for £27.
"There is currently a great demand for snacks that are both healthy and able to fit into people's busy lifestyles," said Erwan Inizan, UK sales director at Bridor.
Led by a boost in healthy eating habits and a rise in flexitarianism, outlook for the vegetarian snacking market is very promising, it added.
"Bridor's mini snacks satisfy those exact requirements, with indulgent flavours that deliver on taste and health credentials to boot, these variants are the perfect option for consumers looking for the next delicious treat."