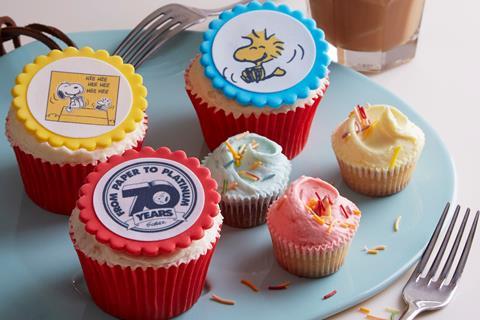 London-based Hummingbird Bakery has teamed up with American comic strip Peanuts to unveil a limited-edition range of cupcakes.
The Hummingbird Bakery x Peanuts collection will include four character-topped Peanuts cupcake gift boxes and three layer cakes to mark the comic strip's 70th anniversary. The range will be available from 1 – 30 September.
Created by Charles M Schulz in 1950, the Peanuts comic strip features Snoopy, the pet beagle of Charlie Brown. The comic strip also showcases characters Sally, Lucy, Linus, Patty, Schroeder and the little yellow bird, Woodstock. It takes a philosophical look at life from the perspective of childhood, said the firm.
Individual Peanuts Cupcakes are available in chocolate, vanilla and Red Velvet for an rsp of £4.15 each in-store for takeaway.
Available online only, the cupcake gift boxes (£19.95/box of six cupcakes) come in Red Velvet, chocolate and vanilla variants. The cupcakes are also available in vegan and Made Without Gluten options. The Peanut Butter & Jelly cupcake gift box will also also roll out online.
Three Peanuts-themed layer cakes, available online, comprise Red Velvet, Rainbow or a special edition Peanut Butter & Jelly flavour. The latter is made up of vanilla sponge with raspberry jam baked through, raspberry jam filling and toppings of creamy peanut butter frosting and crushed peanuts. The Red Velvet and Peanut Butter & Jelly Cakes are both £34.95 for a 6" cake and £54.95 for an 8". The Rainbow Cake is available for £39.95 for a 6" cake and £59.95 for an 8".
The Hummingbird Bakery x Peanuts collection will be available from the bakery's six London branches. Consumers can order the collection online from 1 September via Hummingbird's website for delivery to selected London postcodes or collect it for free in-store from 2 September.