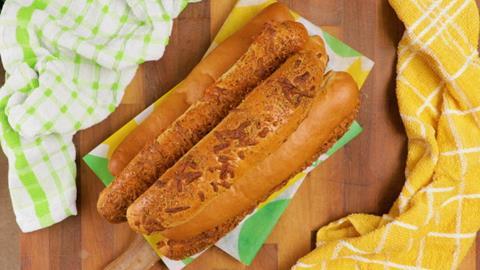 Subway and Costa Coffee have become the latest chains to reveal bakery recipes to help fans indulge in some of their favourite baked goods while the stores are shut.
Greggs, Pret and Pizza Express are among those who have already unveiled recipes for home bakers looking to recreate their favourite treats, including dough balls and sausage, bean & cheese melts.
Here's the latest batch of recipes to satisfy your baking needs:
Subway
Subway has partnered with media company Tastemade to create a series of 'at home' recipes inspired by its range of subs, sauces and cookies to help fans get their Subway fix at home.
The Subway-style Herb & Cheese Submarine Bread was the first to be unveiled and is to be followed by recipes inspired by its best-selling menu items – Meatball Marinara Sub, Chicken Teriyaki Sub, Double Chocolate Chip Cookies and Chipotle Southwest Sauce – over the coming weeks.
"To inspire our guests' lunchtimes at home, we wanted to pass on some of the secrets behind our most iconic products. Paired with the expertise from our sandwich artists, our loyal guests can now try to recreate their favourite subs and cookies using ingredients they should be able to find in their local supermarket," said Angelina Gosal, head of marketing, Subway UK and Ireland.
The recipe, as published on Facebook, is:
Submarine Roll
Yield: 4 foot long rolls
Cook Time: 25 minutes
Total Time: 2.5 hours
Ingredients
For the bread:
500g strong white bread flour
10g quick-action yeast
20g caster sugar
8g kosher salt
80ml olive oil
320ml water - lukewarm
Plain flour, for dusting
2 tablespoons milk, for glazing plain loaves
1 medium egg, beaten, for glazing herb and cheese loaves
For the Italian Herb and Cheese Topping
1 tablespoons dried Italian herbs
1 tablespoons dried Parmesan
½ teaspoon garlic granules
½ teaspoon onion powder
30g mature mozzarella, grated
METHOD
Place the flour, yeast, sugar and salt in a large bowl, ensuring the yeast is not touching the salt and sugar.
In a jug, combine the water and oil by whisking.
Pour ¾ of the water/oil mixture over the dry ingredients and, using a wooden spoon or cutlery knife, mix to evenly hydrate the dry ingredients. Add the remaining water and oil as needed to achieve a soft dough.
Tip the dough out onto a lightly floured bench, and knead until smooth and elastic – about 10 minutes. The dough is ready when it bounces straight back when gently pressed. Place in a large, lightly oiled bowl, cover with a damp tea towel, and leave in a warm place until doubled in size.
Once risen, turn the dough out onto a lightly floured surface and divide into 4 even pieces. Take 1 piece, and roll into a long skinny loaf, about 12 inches long. Place on the lined baking tray and repeat with remaining pieces of dough, allowing at least 5cm between each loaf. Cover with a lightly oiled piece of cling film, and set aside for 1 hour.
Heat the oven to 200˚C/180˚C Fan
While the loaves prove, make the topping. In a small bowl, combine the mixed herbs, dried parmesan, garlic granules, onion powder, and salt.
For the plain loaf, when the bread is almost ready, gently brush evenly with milk, being careful not to deflate the loaves.
For the Italian Herb and Cheese loaf, omit the milk, and instead gently brush the rolls with egg wash. Sprinkle with the herb topping, followed by a little of each cheese.
Bake in the centre of the oven for 25 minutes until golden. Transfer to a cooling rack and cool completely before slicing.
*Tip: The rolls are best enjoyed on the day they are baked. However, they can also be frozen after baking. Simply defrost, and refresh in a warm oven for 5 minutes before filling.
Costa Coffee
Costa Coffee has launched a social campaign 'Feel Good Fix' to help homebound coffee lovers get "their daily fix of feel-good vibes". The campaign comprises guides to making great coffee, book recommendations and recipes, among other things.
Recipes published so far include one for the Costa Ham & Cheese Topped Toastie, a Blueberry Muffin, and Caramel Shortbread (see video below).
The coffee chain had closed all its stores in light of the government's advice on Covid-19, but has recently reopened four. Two drive-through stores in Mansfield and Manchester White City are now operational while deliveries are available from the Bristol Avonmeads and Manchester Oxford Road sites.