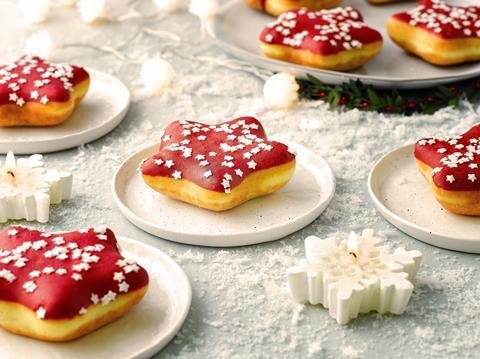 Dawn Foods is hoping to shine bright this Christmas with the launch of a star-shaped doughnut.
The seasonal doughnuts are made with Dawn's signature dough and filled with a crème patisserie custard style filling, which the company said makes for a "delicious and satisfying eat". It's finished with a natural red glaze icing and star sprinkles for added texture.
Supplied finished for thaw and serve, the doughnuts have a 72-hour shelf life.
Dawn added that the doughnuts are an easy way for bakers and caterers to introduce festive products without the time and skill required for making from scratch.
It also recently expanded its frozen doughnut range with six new variants including marshmallow, cappuccino, caramel and wild fruits.
Retailers are also getting into the festive spirit with Tesco and Waitrose among those to reveal their Christmas bakery ranges for 2020.