Orange and maple are the favourite festive flavours for Tesco this year, running throughout its range from meaty mains to decadent desserts.
"This year, we selected maple and orange as our signature flavour combination as it oozes decadence and festivity. Its sweet and citrus elements add a new complexity of flavour to traditional favourites and is such a versatile pairing. It works well with a variety of different meats, desserts and snacks, to add Christmas cheer to every course," said Tesco executive chef Jamie Robinson.
The retailer has also sought to expand its vegan range with new additions to its Wicked Kitchen and Plant Chef brands.
Here's our top picks from the Tesco festive bakery range…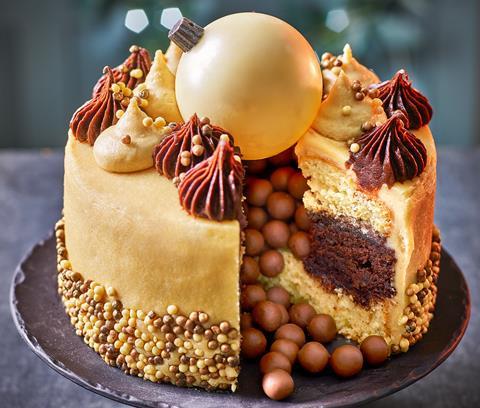 Chocolate Orange & Maple Bauble Cake
Utilising Tesco's flavours of choice this festive season is the Finest Chocolate Orange & Maple Bauble Cake (£13.00). The hand-finished cake features two layers of Valencian orange sponge cake and a chocolate and orange brownie which are sandwiched together with orange, Belgian chocolate and maple-flavoured buttercreams. Inside is a hidden centre filled with chocolate cereal malt balls, while on top is a white chocolate bauble decoration and maple flavour buttercream.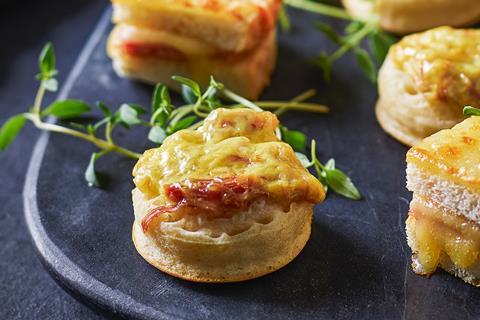 Mini Ham Hock and Cheddar Topped Crumpets
Crumpets are crashing onto the party food scene. The Tesco Finest creations (£5.00 for 10) see mini golden crumpets topped with pulled ham hock, Cheddar cheese and a bechamel sauce.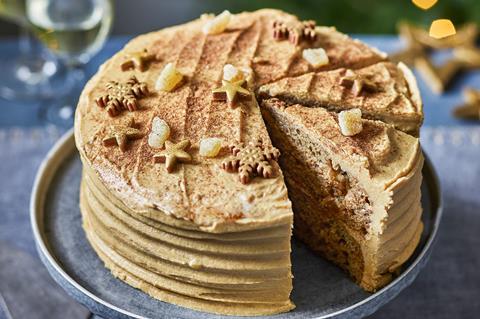 Wicked Kitchen Ginger Chai Cake
Vegan needn't be left out when it comes to indulgent centrepieces this Christmas. Tesco is hoping to hit the spot with its warming Wicked Kitchen Ginger Chai Cake. The cake comprises a ginger spiced chai tea-soaked sponge which is hand frosted and dusted with cinnamon sugar before being topped with caramelised ginger pieces.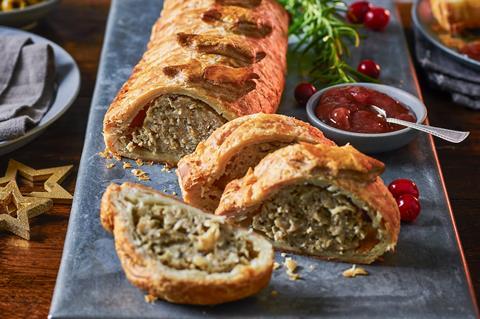 Sausage Roll Log
Offering a different take on the yule log is Tesco's giant sausage roll log for Christmas 2020. The savoury log (£5.00) is made of seasoned pork meat wrapped in puff pastry decorated with festive pastry leaves.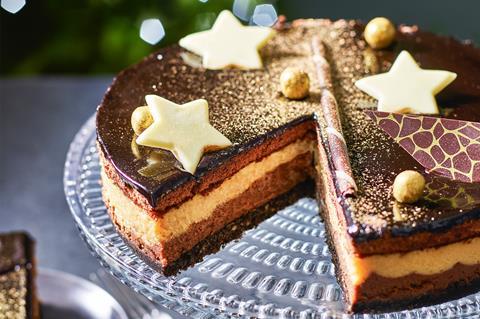 Opera Dessert
Part of the Tesco Finest range, this Opera Dessert is inspired by the classic French opera cake. It combines layers of toffee and chocolate cheesecake, a toffee-flavoured mousse and chocolate sponge on a chocolate biscuit base. It is topped with a black cocoa mirror glaze, and decorated with white chocolate stars, a chocolate cigarillo, gold chocolate malt balls and gold dusting.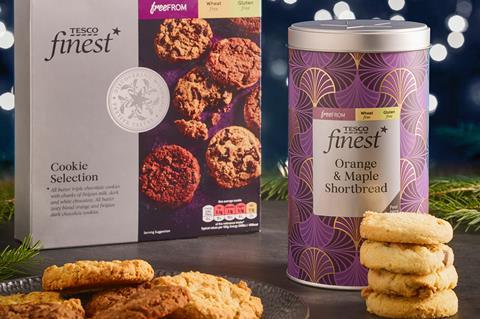 Free From Orange & Maple Shortbread Tin
These gluten-free biscuits are another example of the orange and maple flavours. The all-butter shortbread (£4.00) is flavoured with Sicilian orange, Canadian maple syrup and Belgian milk chocolate chunks packaged in an art-deco inspired tin for what Tesco describes as an indulgent treat at Christmas.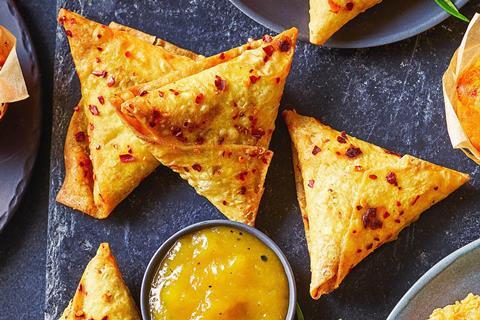 Chicken Tikka Samosas
Gastropub favourites and world cuisine are the main inspirations behind Tesco's range of party food, with the Tesco Finest 8 Chicken Tikka Samosas (£5.00) among the new additions for 2020. The hand folded samosas are filled with British chicken, Indian spices and mango chutney with red chilli.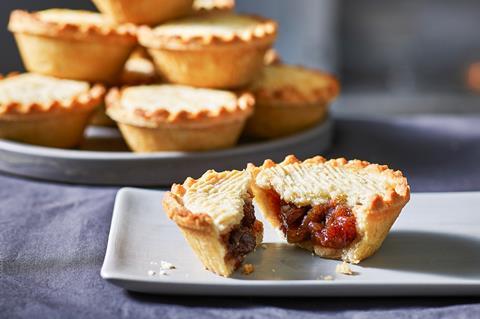 Plant Chef Mince Pies
Tesco is keen to make Christmas inclusive for 2020 and, as such, has added mince pies (£1.25 for six) to its vegan Plant Chef range. A crumbly vegan pastry is deep filled with spiced mincemeat made up of sultanas, raisins and currants. They can be eaten hot or cold.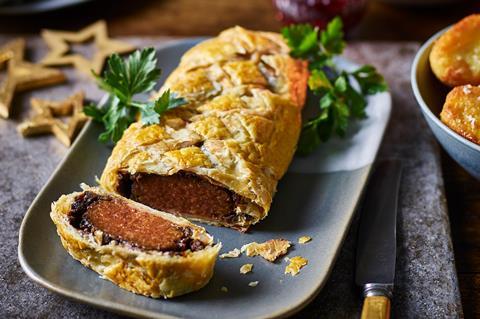 Wicked Kitchen Wellington
Another new addition to its vegan Wicked Kitchen range is the Wellington. The hand rolled 'no beef' wellington sees seasoned pea protein used in place of the traditional meat joint and coupled with a roasted garlic herb mushroom duxelles before being wrapped in flaky pastry.