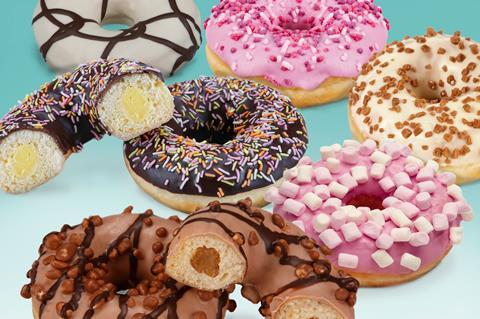 Dawn Foods has expanded its frozen doughnut range with six premium flavours.
Part of its premium finished frozen donuts range, the six new flavours comprise White Drizzle Donut, Cappuccino Donut, Party Donut, Wild Fruits Donut, Caramel Donut and Marshmallow Donut.
Made with Dawn's American style recipe, the doughnuts are fully finished and ready to serve once thawed. They offer less wastage and enhanced profit margins, said the firm.
Four doughnuts feature an 'end to end' filling while the other two are fully covered, it added.
White Drizzle Donut is a soft doughnut covered in white glaze and decorated with cocoa drizzle.
Cappuccino Donut features a cappuccino-flavoured glaze and filling, cocoa drizzle topping and cocoa-covered biscuit pieces.
Party Donut contains eggnog-flavoured custard, a cocoa glaze topping and colourful sprinkles.
Wild Fruits Donut has a forest fruits filling and fruit flavoured sprinkles.
Caramel Donut has a caramel filling, white chocolate flavoured glaze and a topping of caramel pieces.
Marshmallow Donut comprises a soft doughnut with pink strawberry-flavoured glaze decorated with white and pink, vanilla-flavoured marshmallows.
The new flavours will join eight doughnuts in the range including Strawberry Sprinkle, Chocca-Nut, Lovely Lemon and Caramel-Lace.