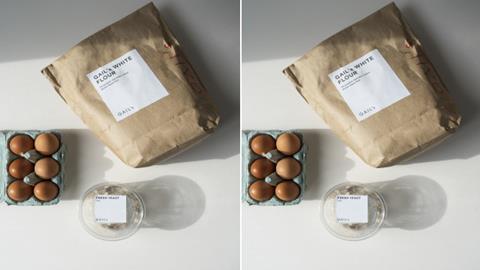 Gail's has rolled out an at-home baking range including yeast and flour.
The bakery is selling fresh yeast (£1), flour (£4/1.5kg) and eggs (£2.75/six), which can be delivered direct to consumers' doors or picked up from Gail's shops. The business has already reopened a number of its London sites and is continuing to reopen more.
Yeast and flour are proving difficult to get hold of during lockdown, said the company, adding that the at-home offer would help to keep Brits baking. Flour is in short supply at retail due to a lack of packaging capacity for smaller bags.
The British-sourced products were used by Gail's bakers and would help consumers get a high-quality result at home, it said.
"We love the tradition of sharing ingredients baker-to-baker, like fresh yeast and good British flour, particularly when it's hard to come by," said Tom Molnar, CEO and co-founder of Gail's.
"We continue to bake sourdough daily and are offering produce from our partner growers and makers to keep our home kitchens stocked and support the lost wholesale market."
Also tapping into home baking, Paul UK is selling its own branded yeast and flour, while Morrisons has begun selling flour direct from its in-store bakeries.