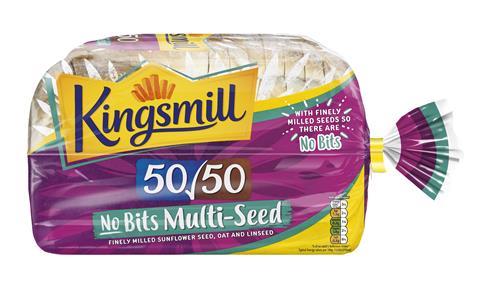 Kingsmill has strengthened its seeded range with two new loaves designed to tap into the trend for healthier bread.
The new 50/50 Multi-Seed and 50/50 No Bits Multi-Seed loaves are made with an even split of white flour and wholemeal flour as well as a range of seeds:
Kingsmill 50/50 No Bits Multi-Seed – the loaf is baked with milled sunflower, oats and linseed, which Kingsmill said gives the benefits of wholegrain from a 50/50 flour base with protein and fibre from seeds without any of the 'bits'.
Kingsmill's 50/50 Multi-Seed – this loaf is baked with sunflower, pumpkin and linseeds. It is also a source fibre, protein and omega 3.
The loaves will be available in Asda from 4 February with an rsp of £1.35 per 750g loaf and Tesco as of 12 April.
They have been developed in response to two dominant trends, said Kingsmill. The first is the growth of 'healthier' white bread. The second trend is the growth of seeded bread, sales of which are up 11.4% over the 26 weeks ending 26 December 2020 [Nielsen] making it the fastest growing area of bread, according to Kingsmill.
However, the brand notes, 87% of seeded bread currently has white flour as its base. Its latest piece of NPD offer the benefits of seeded bread as well as wholegrain, fibre and protein, it added.
"Health is a major driving trend in bread, with shoppers looking for easy everyday options to make that healthy switch. Nutritionists agree that as a nation we should be eating more wholegrain – and that's where our latest innovation comes in," said Kingsmill marketing director Matthew Cullum.
"The launch of Kingsmill 50/50 Multi-Seed and Kingsmill 50/50 No Bits Multi-Seed brings a strong new proposition to the seeded fixture that hasn't been seen before. It taps into two growing areas of bread: healthier white and seeded. The result is a quality, great value branded range, which we know is on trend for our core audience in particular, helping them make that healthy swaps."
The launch will be supported by a major integrated marketing campaign spanning all key consumer touchpoints, including shopper, TV, radio, out of home, digital, PR and influencer support. The new loaves will also feature as part of Kingsmill's sponsorship of The Simpsons on Channel 4 and All4.