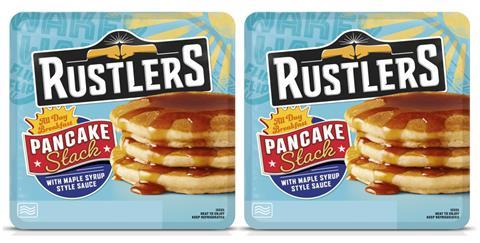 Cookies with confectionery classics baked in, microwavable pancakes and lower calorie brownies are among recently revealed bakery NPD.
Here's some of the latest products to hit the market: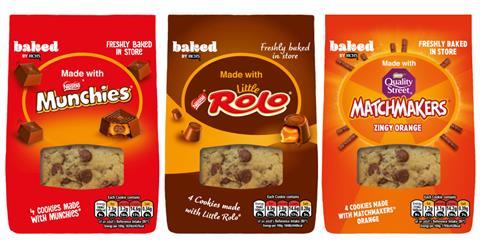 Nestlé cookies, Baked by Rich's
Rich Products has joined forces with confectionery giant Nestlé to launch three new cookie flavours.
The trio of NPD forms part of the Baked by Rich's in-store bakery range and comprises Matchmakers Zingy Orange, Munchies, and Little Rolo cookies. They're sold in packs of four with an rsp of £1.50.
Premium cookies sales were up 20% in 2021 and filled cookies have also helped to grow the category by adding value and encouraging trade up with consumers, according to Rich Products.
John Want, sales, marketing, and R&D director at Rich's, said the partnership was a "major step" for the Baked brand which is now worth £2.5m since its launch last year.
"Branded and premium own label products have performed strongly in the past 18 months, with shoppers trusting known brands to offer them a reliable and quality experience," he added.
"Nestlé Professional's portfolio includes some of the most recognised confectionery brands in the world and our development team has loved using these unique and delicious ingredients to create exciting new cookies. We expect the recognisable brand packaging to stand out in the bakery section, proving a must-stock with retailers."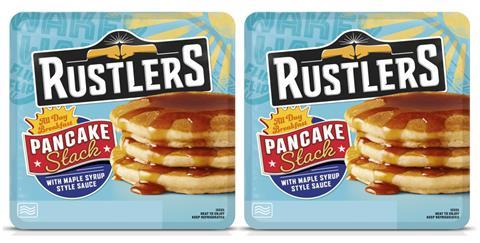 Pancake stack, Rustlers
Rustlers is expanding its breakfast offering with the launch of an All Day Breakfast Pancake Stack.
The new chilled product features three buttermilk pancakes served with a sachet of maple syrup style sauce. The packs, which have an rsp of £3, are rolling into Tesco and Iceland stores this month and Co-op in February.
"Breakfast is a staple occasion seeing long-term growth, with consumption dominated by a small number of core products. Performance of the category is in part driven by morning goods, including breakfast pastries, bagels and pancakes – which alone are experiencing 23% growth," said Elaine Rothballer, head of marketing consumer brands at Kepak.
"Research shows the All Day Breakfast Pancake Stack performs very strongly on appearance, taste, aroma and texture. The new product also fares competitively against baked goods and desserts, giving our retail partners an opportunity to win footfall from quick serve restaurants."
The pancakes join Rustlers' existing breakfast range, comprising the All Day Breakfast Sausage Muffin, and the All Day Breakfast Double Sausage Muffin Cook in Box launched last year.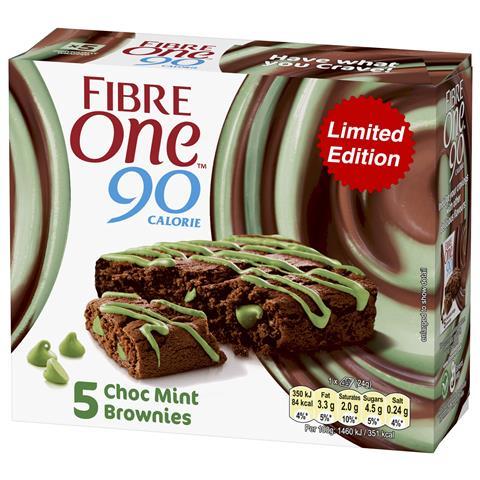 Choc mint brownie, Fibre One
General Mills has reinvigorated its snack bar brand Fibre One 90 Calorie with a limited-edition Choc Mint Brownie.
The sku is available exclusively in Tesco from 14 February with an rsp of £2.89 for a box of five. The treat comprises a brownie packed with mint flavoured chips and finished with a mint drizzle. The launch will be supported by in-store activity and online marketing.
"Here at Fibre One it's really important to us that our target audience have a wide range of tantalising flavours to choose from and feel they can still have fun while watching what they eat. Choc Mint Brownie is perfectly placed to offer the best of 'permissible indulgence'," said Gerry Roads, marketing manager for snacking at General Mills.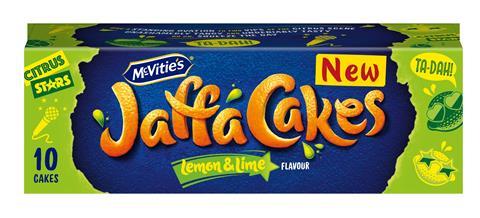 Lemon & lime Jaffa Cakes, McVitie's
McVitie's is reintroducing its Jaffa Cakes Lemon & Lime variant which sees the classic orange centre swapped for lemon and lime and milk chocolate switched with dark chocolate.
It joins the alternative Jaffa Cake flavour portfolio which has included pineapple, cherry, and passion fruit – variants which owner Pladis said have collectively added £3.9m in sales to the brand.
David Titman, marketing director – McVitie's at Pladis UK&I said Jaffa Cakes are a snacking staple for 37% of UK households.
"Within this shopper base, over 10% buy flavour innovation in addition to the core, showcasing the important role we know McVitie's Jaffa Cakes Lemon & Lime will play in driving incremental sales for our retail customers," he said. "We know that almost three-quarters of younger consumers seek even more flavour innovation in sweet baked goods, it's clear that introducing this new line will drive brand penetration and, in turn, higher volume sales."
Jaffa Cakes Lemon & Lime are available in supermarkets as well as convenience and wholesale channels now with an rsp of £1.20 per pack.