There's sticky toffee and caramel galore in the Sainsbury's Christmas range for 2023.
The retailer has spruced up its dessert centrepieces and revamped its yuletide treats as it looks to entice consumers over the festive season. It has also 'poshed up' its party food range with prawn toasties and ciabatta crostini among the new launches.
There are several free from launches too including cookies, pies, and a vegan savoury wellington.
"This year, our festive range is packed full of joyful moments for every occasion," said Claire Hughes, director of product & innovation at the retailer. "We understand that lots of us are tightening our purse strings, and Sainsbury's is committed to keeping prices low on everyday items while continuing to deliver the delicious innovation you know and love.
"Whether it's showstopping snowy desserts, moreish party food, succulent centrepieces or warming festive tipples, you'll be able to Taste the Difference in every bite, scoop, and sip."
Take a closer look at the festive fare on offer for 2023: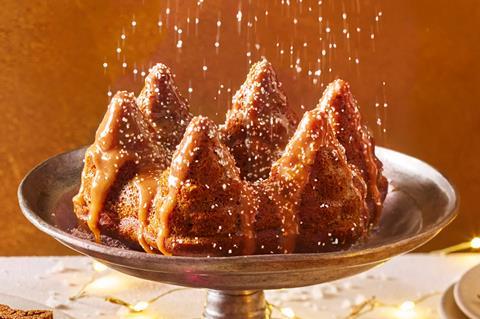 Spruced Up Sticky Toffee
As the name suggests, Sainsbury's has spruced up the humble sticky toffee pudding for this year's festivities. This iteration is inspired by a winter spruce fir forest and is made from an all-butter sponge with sweet dates topped with a salted caramel sauce and sugar snow sprinkle.
Rsp: £10, available 20 December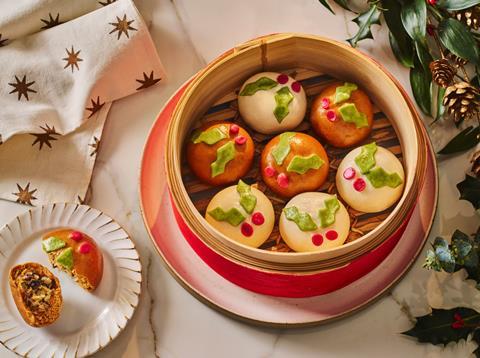 Baos of Holly
Deck the halls with baos of holly! These bao buns may look like novelty Christmas puddings but they're actually filled with a mixture of wood ear mushrooms, water chestnuts, carrots, spring onion, and ginger.
Rsp: £6, available 15 November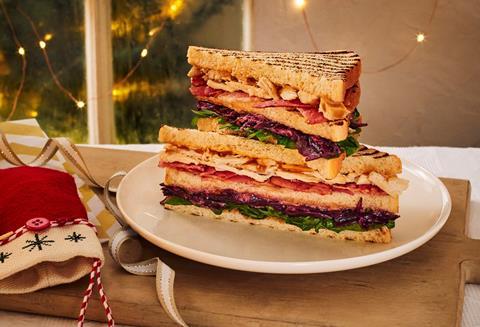 Christmas Cracker Club Sandwich
This cracker of a sandwich has shredded smoked chicken, smoked bacon, pork, sage & onion stuffing, spiced cabbage, and real ale chutney sandwiched between three slices of toasted bread, and all topped off with a gravy mayo.
Rsp: £4.50, available from 30 October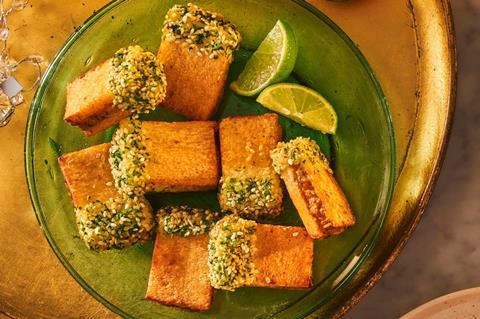 Posh Prawn Toasties
Described as a 'levelled up version of everyone's favourite takeaway nibble, these Taste the Difference toasties see handcrafted seasoned king prawn filling sandwiched between crispy bread layers and paired with a punchy ginger, garlic & lemongrass dipping sauce.
Rsp: £5.25, available 15 November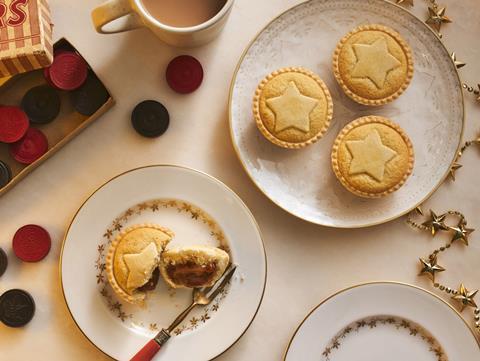 Tipsy Toffee Caramel Pies
A tipsy toffee alternative to the classic mince pie. These pies see all-butter pastry layered with a spiced caramel sauce and a frangipane top, soaked with dark rum.
Rsp: £2.75, available now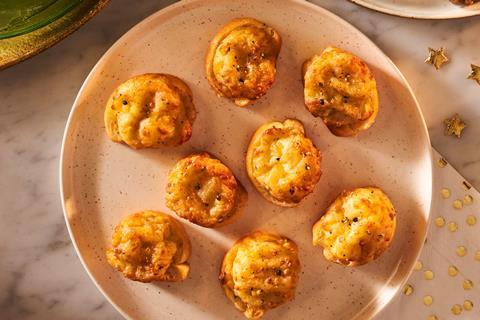 Cheddar & Truffle Ciabatta Crostini
Cheese on toast has gone posh! Mini ciabatta crostini, made with extra virgin olive oil, is topped with a rich four cheese sauce, and infused with black summer truffle and truffle flavoured oil for an indulgent kick.
Rsp: £5.25, available 15 November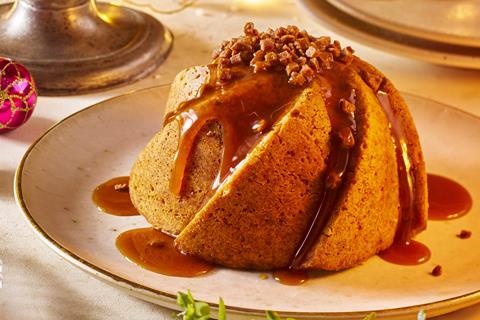 Melt in the Middle Salted Caramel & Chocolate Bombe
Described as a luxurious alternative to a traditional Christmas pudding, this butter enriched caramel flavour sponge, with a hidden Belgian chocolate ganache centre, is smothered in warm salted caramel sauce and a sprinkling of crunchy chocolate fudge style pieces.
Rsp: £9.50, available now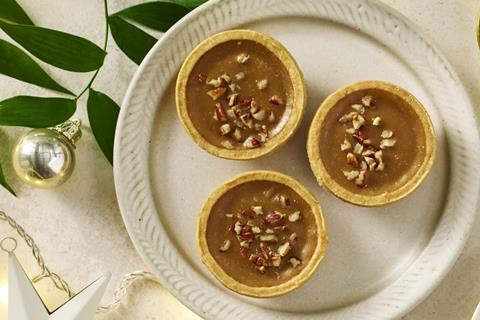 Sticky Toffee Tarts
Part of the Taste the Difference free from range, these tarts are gluten and milk-free and bring together the flavours of sticky toffee pudding in a crispy pastry base. The pastry is filled with a light sponge pudding and then topped with pecan pieces and salted caramel.
Rsp: £3.25, available now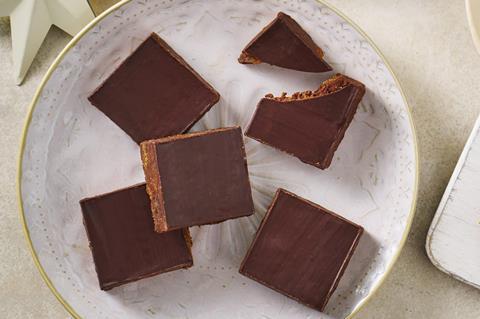 Ginger & Chocolate Tiffin
Another addition to the Taste the Difference free from range, these sweetened stem ginger and fiery ginger biscuits are topped with bittersweet Belgian dark chocolate. They're free from gluten, milk, and egg.
Rsp: £3, available now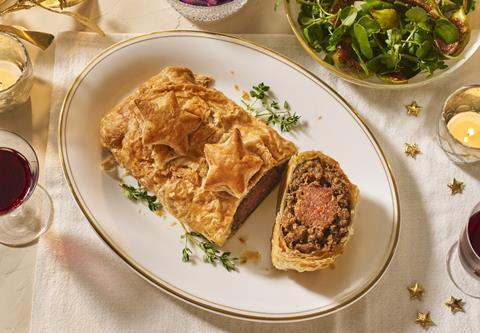 No Beef Wellington
This plant-based centrepiece – which is part of the Taste the Difference range – has a mushroom and pea protein joint paired with tender leaf spinach and a rich mushroom and port win duxelles, all hand-wrapped in a crisp puff pastry.
Rsp: £6.75, available 15 November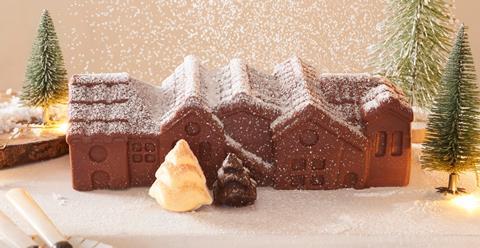 Home for Christmas
Indulgent Belgian chocolate mousse has been crafted into a snowy, nostalgic village setting, with a hidden centre of silky salted caramel sauce and crunchy biscuit balls.
Rsp: £12, available 20 December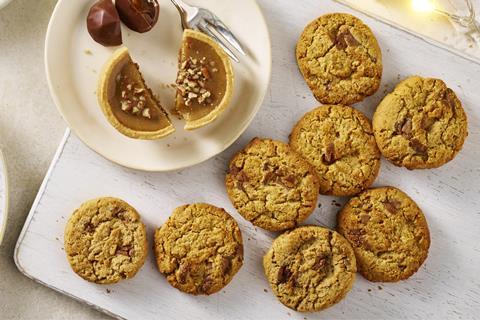 Caramelised Biscuit & Orange Cookie
These gluten-free all-butter cookies are loaded with Belgian milk chocolate chunks and Sicilian orange.
Rsp: £2.50, available now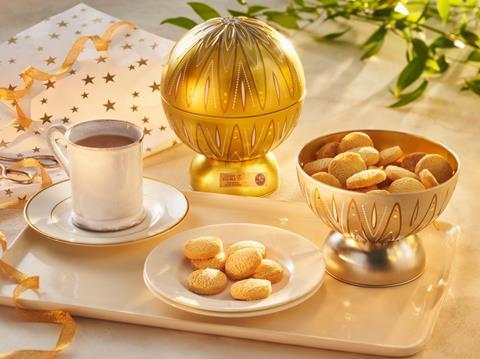 Light Up Bauble
Inside this decorative light up bauble tin are Taste the Difference Mini Shortbread Rounds. The tin is available in gold and silver.
Rsp: £8, available now