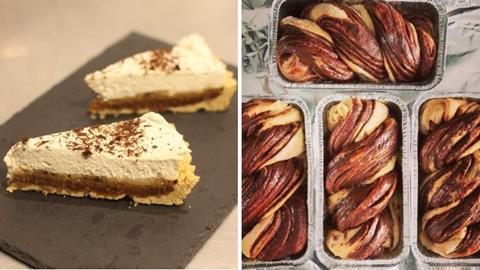 Nora and Nama Vegan Bakery & Deli has opened at Camden Market.
The new bakery serves a selection of baked goods, including baklava, baba cake and cinnamon swirls, all of which are 100% vegan. Many are also free of gluten and refined sugar.
The business was founded by bakery duo Nora Nagel Bergman and Na'ama Oknin Klein. Nora is a professional pastry chef who qualified from Le Cordon Bleu culinary school in 2012. Na'ama baked with her mother from a young age.
The business said it aimed to influence the vegan baking scene in London.
"The vegan trend in London has spread enormously and in Camden Market specifically one can find an extensive variety of vegan food. We felt that by bringing our unique products and join our fellow vegan shops in a central market such as Camden, we contribute to establishing a vegan scene that will attract more people and promote our ideas," said Nagal Bergman, co-founder.
"We have seen the improvements and positive changes the market has been going through and still is, and we believe that it is going in the right direction to be a major point of attraction for both tourists and locals alike."
Camden Market is renowned for its eclectic mix of food tenants. The market is also home to vegan restaurants including: V Burger, which serves vegan burgers; Young Vegans, a vegan pie and mash shop; and Naked Dough, which serves raw cookie dough in flavours such as Lotus Biscoff and Oreo.