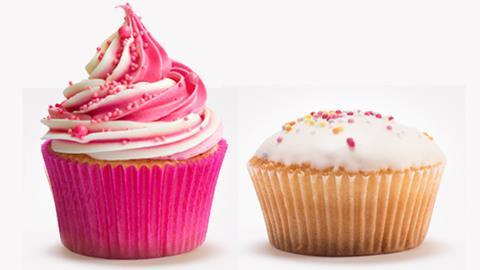 It's National Cupcake Week and Britain's bakers have gone crazy using the hashtag #NationalCupcakeWeek to share their delicious creations.
But the event, which runs from 18-24 September, has left some Brits questioning whether fairy cakes should be included. After all, aren't they just English cupcakes? British Baker has done some digging to find out.
According to Hummingbird Bakery, there are two distinct differences.
Firstly, fairy cakes are smaller than cupcakes. In grocery, Tesco's range includes distinct cupcake and fairy cake cases, while cake cases manufacturer Herald has two size options of 60mm and 95mm.
Secondly, the toppings are different. Fairy cakes, now, are often drizzled with icing (and sometimes topped with sprinkles) rather than piled high with a rosette of buttercream or cream cheese frostings that American-style cupcakes are famous for.
Ann-Marie Dunn, a bakery lecturer at the Dublin Institute of Technology, agrees. "Fairy cakes are smaller units, baked in smaller cases and trays," she told British Baker. "Traditionally the tops were cut off and set aside, a small amount of jam placed in the centre and a small amount of cream on top. The tops were cut in two and placed on either side of the cream and called fairy cakes as they resembled the wings of a fairy."
Notably, fairy cakes are traditionally a simple Victoria sponge mixture, while cupcakes are increasingly innovative with flavourings such as salted caramel and even prosecco.
"Often, the centre of cupcakes are filled before being finished on top, making them a far more luxurious product, which is reflected in the price," Dunn added, noting fairy cakes are often sold in multipacks while cupcakes are sold by the unit.
But there's still opportunity to add value. "Both products are trend-driven and present bakers with opportunities to add value to scratch or pre-mix cake formulas," added Richard Wood, lecturer in bakery & confectionery at University College Birmingham. "They also lend themselves to rapid further development by the use of character-led or themed styling."
The matter is further complicated when muffins are thrown into the mix, but as explained on Nigella Lawson's website, it's all down to the method.
Cupcakes and fairy cakes are often made using the creaming method, with the sugar and butter mixed together, followed by the eggs then the flour. Muffins, on the other hand, are made with the dry ingredients combined separately to the wet ingredients before being mixed together. There's also more liquid in a muffin mix, contributing to a denser finished product.