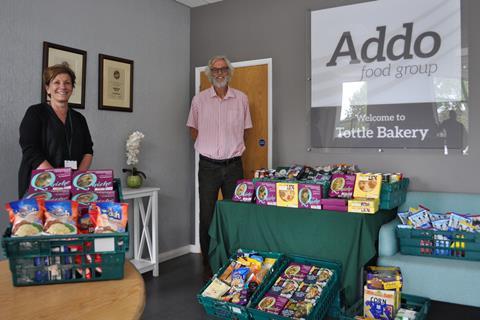 Nottinghamshire-based Addo Food Group has raised £2,800 for a homelessness charity by taking part in a virtual trek challenge.
Its 525-Miles for Meals virtual trek challenge raised the funds for local homelessness charity, the Canaan Trust. The challenge, which took place over the past four weeks, followed a route between all the pastry producer's sites.
The staff at the Tottle and Riverside Bakeries have also hosted a 'dress down week' and donated long shelf-life food items to the charity.
"Our 'Miles for Meals' campaign has already surpassed its target of £2,000 and we plan to continue to support the trust and its fantastic work," said Samantha Hart, group HR director at Addo Food Group.
Based in Long Eaton, the Canaan Trust has provided secure accommodation and support for homeless and vulnerable individuals for the past 25 years.
The trust operates two hostels for homeless males, and supports females and families who may become homeless due to fleeing domestic abuse or being part of the 60% hidden homeless, such as living in squats or with family members or friends.
"This donation will make a huge difference. In the past few weeks alone, the trust has been supporting up to five new cases of homelessness a day, many of which have been a direct impact of the coronavirus pandemic," said Kevin Curtis, project manager at the Canaan Trust.
The charity, which operates 24/7 365 days a year, also provides a food bank service supplying food aid as well as access to toiletries and hygiene packs.
"Throughout the pandemic, our expenditure has also increased far beyond pre-Covid-19 budgets. With all our fundraising events being cancelled and our income heavily relying on sponsorships, we are facing a loss of £30,000-£50,000, depending on how long the crisis continues – therefore it is vital that businesses like Addo Food Group continue to support local organisations like ours."