Bread, buns, cakes and pastries – flour is at the heart of them all. Wheat dominates the flour market but as consumers become increasingly health conscious – something that has been exacerbated by the pandemic – other grains are giving wheat a run for its money.
Ancient grains, as expressed by the name, have been around for a long time but they've gained more traction with consumers recently. The first lockdown brought with it an explosion of in home baking, and a subsequent shortage of retail-sized packs of self-raising and plain flour, offering an opportunity for alternatives to catch the eye. Enter the likes of spelt, rye, barley and einkorn.
This demand for alternatives has translated into the type of goods shoppers buy as well as bake and the nation's bakers are more than happy to meet this need.
"The events of 2020 caused a fundamental reset in human behaviour which has led to consumers wanting more from their food and seeking functional products that provide health benefits like immune function support, weight management and improved digestion," says Laura Hensley, marketing assistant at ADM Milling.
Ancient grains are definitely starting to make a name for themselves within the baking community
But which grains can really break into the mainstream? And, with some harder to yield and more costly, do the added health benefits outweigh the challenges?
"Ancient grains are definitely starting to make a name for themselves within the baking community. We've always known and advocated for the widespread benefits of ancient grain products, and while there has been growing interest in them over the years, lockdown has sparked an enormous increase in sales," says Janet Craggs, owner of Craggs & Co.
The north east-based supplier – which produces einkorn, emmer, spelt and rye – saw demand for its products rocket, and in the last six months has seen sales grow by over 3,000% year on year.
It's not unique to Craggs & Co either. Bertie Matthews, managing director at Matthews Cotswold Flour, says ancient grains "are making a huge comeback" and they're bringing with them a host of nutritional benefits – perfect for the modern-day, health-conscious consumer.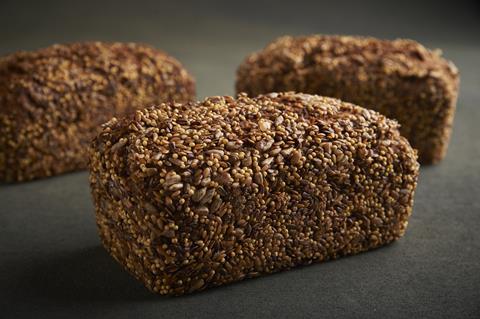 "Emmer, einkorn and spelt stoneground milled in their wholegrain form provide a fibre, mineral and vitamin boost to bakery recipes," he adds.
Craggs & Co recently conducted a survey among 200 customers, where 61% identified health-related qualities as one of the top reasons for buying ancient grain products.
The nutritional properties of grains and seeds is something Cumbria-based Lovingly Artisan cherishes. In spring 2020 the artisan bakery added two 'better for you' sourdough loaves to its range – a Spelt, Golden & Brown Linseed Bread and a Sunflower Seed Danish Rugbrød.
"We want to be at the forefront of this resurgence in traditionally made breads, real breads made by artisan bakers, that are high in fibre, full of nutrients and are easily digested because they are naturally fermented and don't contain the array of additives, manufactured yeasts and processed sugars that you find in a factory-produced sliced loaf," owner Aidan Monks said when the loaves were unveiled.
Lovingly Artisan seems right on trend as rye, spelt, chia and oat are among the flours to become even more widely used this year alongside the likes of linseed and millet, according to Lydia Baines, digital and communications manager at Puratos UK.
Even plant baker Roberts Bakery embraced the alternative grains trend with last year's NPD designed to 'help build up and boost the body's natural defences at a time when we need it most'. These included the Energy Balance Good for You Bloomer, which features oatmeal, quinoa and chia seeds, as well as the True Vitality Good for You Bloomer with hemp seeds and brown rice flour.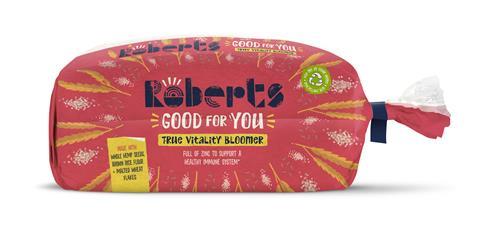 Get creative
For those willing to experiment, these grains can be used in a host of bakes from breads to sweet treats, often bringing a deep and nutty flavour with them. They're also suited to wraps, thins, bagels, buns, crackers, rolls, and loaves, says Allan Burns, sales director at Carr's Flour.
Lesser known grains can be used in bakery products too, notes Julie Telfer, head of NPD at Silvery Tweed. Emmer can replace wholemeal plain flour (with raising agents added) for cake and biscuit baking. Einkorn works well in rustic breads and flatbreads, and can substitute wholemeal wheat flour in pastry, cake batter and waffles. Triticale is suited to biscuits, cakes and muffins, while teff can be used for waffles, cookies, bread and crackers.
However, Claire Marriage, founder of Doves Farm, admits that ancient grain flours are often more suited to artisan style recipes, as they require more craft bakery skills and techniques, as well as awareness of an ancient grain's individual properties.
Though spelt contains gluten, it is less robust than modern wheat and rises more quickly, which means it needs a shorter proving time. Rye and einkorn, meanwhile, can become sticky when over-kneaded because of their fragile gluten content.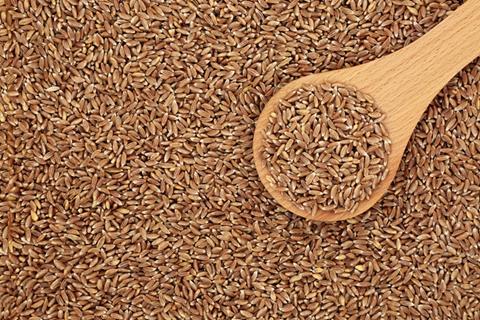 Sourcing
Ancient grain products also tend to be more expensive than traditional wheat flour. "Firstly, this is because they are lower yielding, as they have not been hybridised for yield. Secondly, this is due to the fact they grow with a husk which must be removed prior to milling, adding additional cost to production," explains Craggs.
Spelt, for example, will never be able to compete with high-yield wheat varieties that have been cultivated specifically to produce high volumes at harvest time. This places a natural limit on its use.
"As ancient grains are a specialist product, there are very few growers here in the UK. Besides being harder to cultivate, they are even trickier to de-hull (remove the outer coating), which means the process for making them into flours is a bit more complex," Craggs adds.
Thankfully the UK milling industry is up to the task, meaning bakers can follow their hearts and get experimenting.