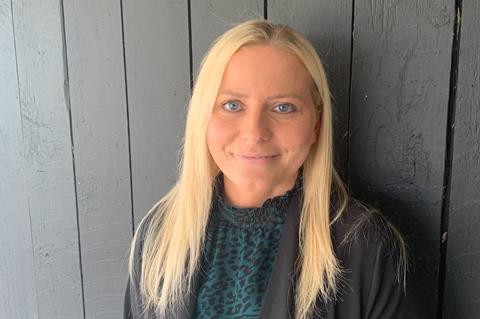 It's 6am on a Thursday morning. More than a year into her role, Stacey Brown, the ex-Lincolnshire Police officer turned national investigations manager for Bakers Basco, is getting ready to return to her old stomping ground for the first time since leaving the force. But with a 'seaside sweep' on the agenda, it's a little different this time around.
It's a bright and early start as I make my way across to the Lincolnshire area to meet one of Bakers Basco's investigation officers in Skegness to carry out what we call a 'seaside sweep'. The plan is to travel up the coastal road to Ingoldmells, Sutton on Sea and Mablethorpe, taking a stroll down the central promenade at each location looking for bakery equipment that might be discarded down passageways or outside smaller eateries in the area.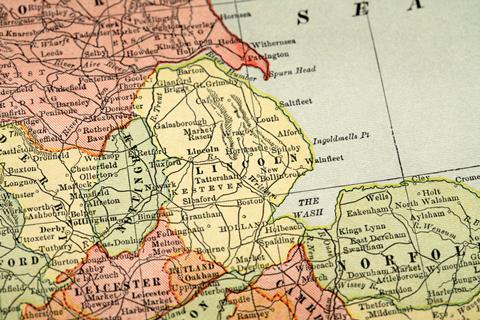 It's the first time returning to an area that I used to cover as a response officer, and it feels good to be back in a familiar location – but my mission is somewhat different this time. In fact, since I joined Bakers Basco last year, searching for bread baskets and dolly equipment has become ingrained into my everyday routine – even outside working hours. It turns out that in this job, everyone becomes a basket hunter. I can't tell you how many phone calls and pictures I've had from close friends and family, when they spot an Omega basket on the side of the road, down and alleyway or outside a shop. Every little helps, though.
The purpose of today's trip is to do just that and keep an eye out for any companies delivering to establishments in the area using our Omega equipment. This particular morning trawl hasn't been too fruitful. We find the odd baskets and wheels – which can often lead to something bigger – but it's good to be seen and talk to people to spread awareness of the problem, what Bakers Basco does, and share information on what to do if they see or receive any of our baskets or dollies.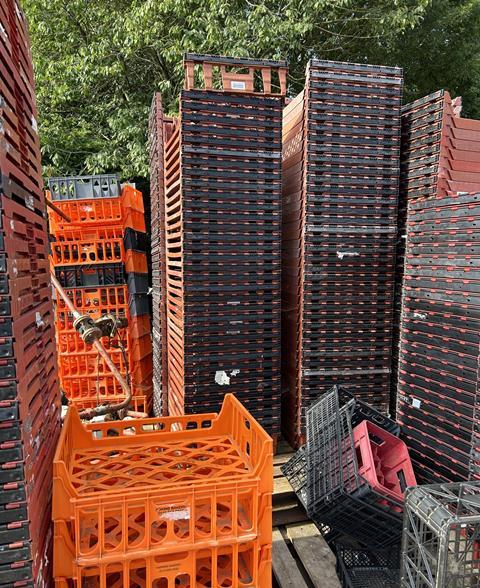 Throughout the day, we plan to visit a few locations in the area historically found to be using equipment without permission to have a chat. That's our first stop. Thankfully they are now clear of Omega baskets and using their own equipment. A good result.
For context: for a company to be authorised to use our equipment, they must be part of the Bakers Basco scheme, meaning that they'll pay a license and usage fee. For anyone not part of the scheme, that's what we call 'unauthorised use'. It's those businesses that we want to have a word with and use this opportunity to provide contact details in case any of the equipment ends up at their bakery or business in the future.
As we carry on along the coastal road, we stop at a convenience store with a few Omega baskets outside the doors on the street. I speak to the manager there who explains he is purchasing bread from a local cash and carry and taking it away in the baskets, before returning them the next day. Feels like the perfect opportunity to share our campaign poster designed specifically for cash & carry and convenience stores – outlining the importance of returning our equipment and not leaving it in the street open to theft or dumping in skips, and ultimately ending up in landfill.
Next, we're responding to a call made last week from a location to let us know they had a big backlog of our equipment on site, which had been there for some time, and needed to be removed. On arrival, we find 400 Omega baskets stacked up in their yard. The employees on site were helpful and cooperative as we inquired about where the equipment had come from. Turns out there's three separate companies delivering products to them in our equipment.
A quick search on our database confirms that these companies are not authorised to use it. The next action will be to share these three locations with our investigation officers in those areas to organise a visit in the next week, find out what's going on, what equipment they are using, and initiate those conversations with a manager there. In the meantime, we load up the van with as many of the baskets as we can fit in to deliver back to the shareholder bakeries, and will return to collect the rest of the equipment next week.
We're now moving away from the east coast into the Lincolnshire area – on the hunt for a GPS tracker. This lead actually came from a friend. Off the back of that, we put a tracker out into the field two weeks ago after a text to say one particular café always has the baskets. And on a few occasions, an unmarked white transit van has been seen delivering products in them. I'd previously done some digging to find out who the company were, but that search was unsuccessful, so we put a tracker out into the area. That tracker was later picked up by (what could have been) the white transit van or another company. It was then moved to another shop approximately 15 miles from the café where it stayed for a few days.
We'd previously made a visit to this shop to find out what was going on. Turns out, our equipment was stacked up outside. This shop stocked a certain brand of bakery product. A search of our database flagged that this brand had historically been found misusing our equipment. I couldn't locate the tracker but kept an eye on it and after a few days moved on to a bakery nearly 30 miles away also found to be misusing the equipment. On the first visit to this location, the bakery was closed. But there was a substantial amount of Omega, Allied Bakeries and Hovis equipment stacked up outside and locked up.
As I couldn't speak to anyone at that time, today we pay another visit hoping that it will be open and give us the chance to discuss why they have so much of our equipment and to see if they are using it inside for their own use to discover whether that tracker will move back through the cycle to bakery to shop to café. We arrive but it's closed again.
This one will require an early morning visit, potentially through the night. The equipment is still there and locked up. There's no sign of any other equipment – which is something we always look for. If they are 100% running off ours and have no baskets or dollies of their own, it paints a picture that they are running solely from our equipment, which needs to get back to the shareholders who pay a license fee to be part of the scheme. The plan is to return in the next 1-2 weeks with another officer during night time hours and hope to speak with someone who can explain why it's on site and why they are using it.
As I head home for the day, I happen to pass by one of the three locations mentioned earlier – so I take a drive by. It looks to be a dairy, all locked up. Probably not the best time to go. But it's a reminder that our equipment really can be found anywhere. It's not just bakeries, it's dairies, farm shops, butchers – all of which can cause complications with cross-contamination. Those baskets will end up needing to be destroyed at a cost. When really, this equipment is designed for shareholders to use over and over again for many years.
Tomorrow, the investigations continue…