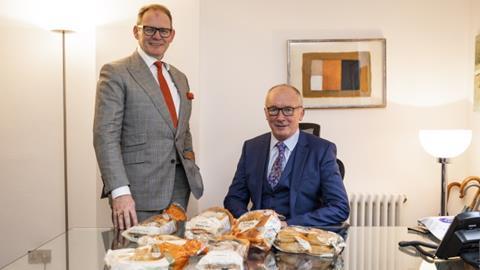 Paul Baker, founder of St Pierre Groupe, on how confidence and agility have helped St Pierre Groupe grow during the coronavirus crisis.
"There has never been a more important time for businesses to have an agile approach in order to survive and to grow.
Over the past two months, there have been unprecedented challenges for bakery businesses, particularly within the supply chain. These have – and will continue to – drive long-term change.
Taking an agile approach has enabled St Pierre Groupe to achieve growth even during the Covid-19 pandemic. This, combined with an adaptable supply chain, great relationships with suppliers and a very strong team, has helped our business and brands continue to thrive.
In March, we reported an increase in sales across all our brands, which we believe is due to consumers looking for foods that are comforting, versatile, convenient and good value, along with the shift to all meals now being consumed at home.
A significant increase in demand for our brands meant we had to work strategically with our partner suppliers to manage production capacity and capability. We decided, where possible, to streamline our offering to ensure that our most popular products were readily available. We simplified the production process and reduced downtime in the bakeries. Like many businesses, we are adapting to the ever-changing situation by working closely with our bakeries, haulage companies, warehouses and customers to ensure we meet consumer demands.
Video calling has also become an essential part of our working life during the health crisis. As an international company with teams in the UK, France, the US and beyond, this makes it easier for us to check in with each other and our supply partners regularly. We have adapted to this becoming the primary form of communication following the quick escalation to lockdown and remote working.
It is also a natural progression to use this for interviews with potential new employees. While a face-to-face interview is preferable, video conferencing is the next best thing, as it allows us all to see one another in a more personal setting, making the interview more effective. We have successfully recruited a number of new team members this way over the last two months.
As things evolve into the 'new normal' and I look back on the challenges the business has overcome, my main observation is that companies must learn to be confident, agile and strategic. It is this behaviour that enables you to do whatever you need to do, not just to survive but to thrive."