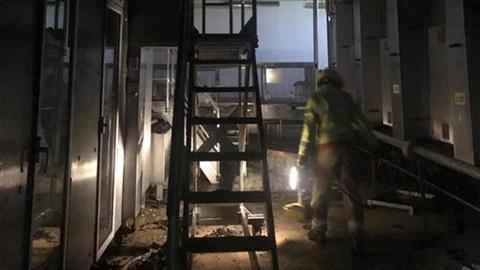 Ten fire engines have fought a blaze at a Bakkavor bakery in Aston, near Nantwich.
Manufacturing has temporarily stopped at the factory and Bakkavor is transferring production to its two other bread facilities to limit the impact on supply to its customers.
The bakery has been in operation for more than 25 years and employs 300 people. It specialises in chilled breads such as garlic slices, doughballs and ciabattas.
Firefighters were alerted early on Saturday morning, with crews from two fire engines discovering a large fire in the ceiling voids of the 80-metre by 40-metre building.
Due to the scale of the blaze, another eight crews from nearby stations were called to the scene.
A nearby A-road was closed and local people told to keep their windows and doors closed as firefighters wearing breathing apparatus tackled the fire from inside and outside the building.
All staff were accounted for and there were no reports of any injuries.
"All colleagues were safely and quickly evacuated in line with our health and safety protocols, and we would like to thank the fire service for their prompt response and tackling the fire," said the company.
The fire was extinguished at around 5am, and fire service staff worked with Bakkavor to undertake a salvage operation and recover equipment where possible.
In April, Bakkavor bosses announced they had agreed to take pay cuts as the company looked to reduce capacity, which it said could mean furloughing staff. The business said it had withdrawn its financial guidance for 2020, given that market conditions "remain highly uncertain for the foreseeable future".
The company, which supplies fresh food including desserts, pizza and bread to retailers such as Tesco, Marks & Spencer, Sainsbury's and Waitrose, said at the time that it was reviewing capacity across its facilities to better match demand.