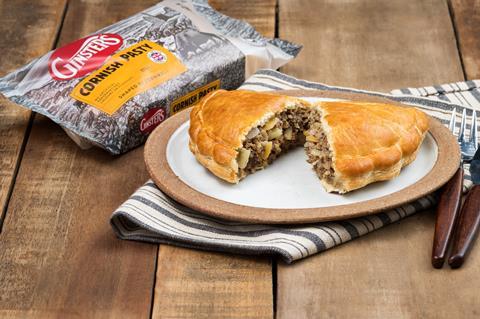 Savoury pastry brand Ginsters is partnering with Plymouth Argyle Football Club for the launch of a new community initiative to fight poverty.
The social impact project, titled Project 35, has the objective of reducing levels of deprivation in Plymouth and surrounding areas – with '35' representing the percentage of children in Plymouth reported to be living in poverty. The scheme aims to do this through a comprehensive campaign of fund-raising, awareness raising, social outreach, food donations, education and charity support.
The partnership will involve Ginsters remaining as the football club's principal partner, with the pasty maker opting to donate shirt sponsorship to the project along with committing to operations and awareness support. In addition, the company will provide 100,000 lunches to local school children throughout 2022/23.
The scheme will also see weekend hampers donated to local families and dedicated food appeals at Plymouth Argyle football matches throughout the season, alongside permanent food donation points being introduced at Home Park football ground, Plymouth. In addition, Project 35 will support families most affected by poverty with educational and pastoral care.
"It's an absolute honour to be involved with such an important initiative in the local area and in partnership with the great Plymouth Argyle," said Sam Mitchell, managing director of Ginsters. "The work they do for the Plymouth community is incredibly important and we're excited to join forces to support the local community.
"The statistics surrounding food poverty across Devon and Cornwall are shocking, and being the largest food manufacturer in the region, we believe it's our duty to help tackle this situation in partnership with Plymouth Argyle. Project 35 is our long-term commitment to helping tackle these challenges.
"Providing 100,000 Ginsters lunches to school children and providing shirt sponsorship are just a couple of ways we're pledging our support," Mitchell added.
Andrew Parkinson, Plymouth Argyle chief executive officer and Argyle Community Trust trustee, expressed his gratitude to Ginsters for its backing of Project 35. "The opportunity to effect change in our community would not be as great without their participation," he said.