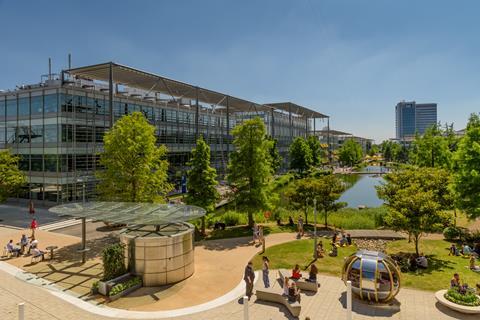 McVitie's owner Pladis is relocating its global head office after 21 years from Hayes in Middlesex to Chiswick in London this summer.
Pladis' 16,000 employees and 25 bakeries worldwide will be supported by the site, which will also be home to the UK and Ireland regional office led by David Murray.
The new workspace has been purpose-designed to meet the business' needs. Spread out over 28,000 sq ft, the office is described as 'modern and fresh, yet also pays homage to the history and heritage of Pladis'. It features 'carefully curated' workspaces, quiet zones and collaboration spaces.
"We have been looking for an office space which better reflects our needs and our ambition to be a defining snacking company of the 21st century. The new office will be much more than just a place for us to work, it will be a space where we can truly showcase our exceptional portfolio and grow and inspire our ambitious team," said Pladis CEO Salman Amin.
"Chiswick Park is in a great location that will be appealing for current and future talent, and we are looking forward to welcoming our Pladis colleagues and partners to our new home."
The business – which also owns Jacob's, Carr's and Go Ahead, among other brands – joins a number of FMCG brands at the location including Starbucks, Pernod Ricard and Danone.
Matt Coulson, CEO of Chiswick Park Enjoy-Work, added: "The company is a perfect fit for our Campus and will connect with an exclusive group of like-minded businesses and individuals. We look forward to Pladis joining our collaborative workplace community."