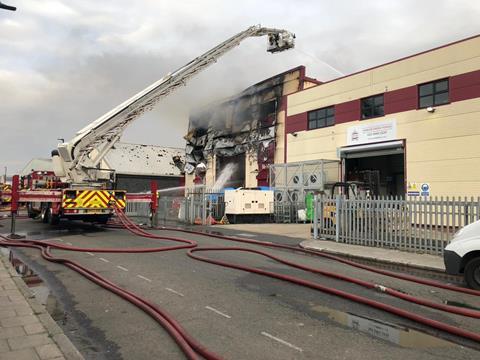 Fifteen fire engines and around 80 firefighters dealt with a severe fire in a bakery and restaurant in Park Royal, London.
London Fire Brigade (LFB) was called at 18:19 yesterday (23 July) and the fire was brought under control by 03:41. Fire crews from Acton and surrounding stations attended the scene.
The bakery, which has not been named by the fire service, is located on Minerva Road. The majority of the two-storey building was damaged by the fire. Initial 999 calls reported that residential properties were involved, but LFB has confirmed this was not the case.
"This is a severe, complex and highly visible fire with our 999 Control taking over 50 calls in the early stages. There was a lot of thick black smoke in the area and we ask local residents to close their doors and windows," said assistant commissioner Graham Ellis.
"The lay out of the building and a ruptured gas main made firefighting difficult but firefighters worked throughout the night to bring it under control. Thankfully there are no reports of any injuries."
Firefighters will be damping down small pockets of fire throughout the day. Fire investigators will start their work once they can gain access to the building.