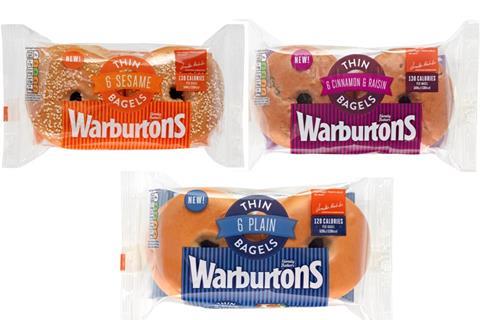 Warburtons has announced a multi-million investment plan to build a new facility dedicated to the production of the brand's Thin Bagels.
The plant will be located at the company's bakery in Stockton, Teesside, which it took over from Rathbones in 2005.
"Due to increasing consumer demand for our Thin Bagels, we are investing in a new £18m Thin Bagel plant at our Stockton bakery," a company spokesperson said.
"Works are underway and we expect the plant to be baking in spring 2022. The new build will see the site increase by about 15% and eventually will enable us to double the number of people working on site, therefore around 30 new jobs will be created over time."
Warburtons currently produces crumpets at the Stockton bakery having ceased the production of bread at the site in 2018, citing falling demand in the wrapped bread market. Thin Bagels were launched by the plant baker in 2015.
The family-owned company, headquartered in Bolton, has 10 other bakeries in the UK, including a plant in Newburn, Tyne & Wear, dedicated to the production of gluten-free products.
In its most recent financial results Warbutons posted a profit before tax of £17m for the 52 weeks to 28 September 2019, reversing a loss of £13.5m in the previous year.
The company employs approximately 4,500 people and has 18 depots in addition to its bakeries across the UK.