Milling industry veteran Roger Butler has joined the National Association of British and Irish Millers (Nabim) as president.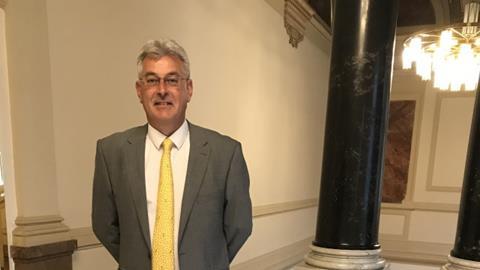 Previously the trade association's vice president, Roger Butler will take over from George Marriage as president this month.
His appointment comes as the UK flour industry continues to face unprecedented challenges due to the Covid-19 pandemic, said the association.
With 45 years of experience in the milling industry, Butler has worked abroad in Canada and Papua New Guinea. He is currently chairman of Whitworth Bros and Carr's Flour mills.
"UK millers have played a vital role in ensuring the supply of both commercial and retail flour supplies during lockdown. At the same time, Nabim has also been working tirelessly behind the scenes to provide the invaluable support its members need during uncertain times," said Butler.
"I am both proud and honoured to become president of an organisation which does so much to promote and protect everything which makes our industry special."
Butler began his career at fourteen cleaning hessian flour sacks at Cadge & Colman.
He spent twelve years working for Robert Hutchinson in Kirkcaldy before being appointed managing director, and subsequently chairman, of Whitworth Bros.
"We are fortunate to have someone of Roger's experience and drive as Nabim president, while the industry responds to the changes in demand and consumer behaviour brought about by the current crisis and the completion of our departure from the European Union," added Alex Waugh, director general of Nabim.
Nabim has also published an online map of where to buy flour during the Covid-19 pandemic.