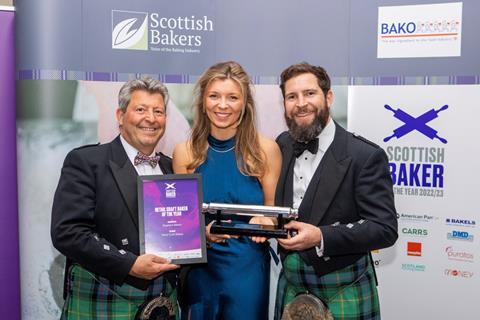 Family business Stephens Bakery is marking a new era as managing director André Sarafilovic transitions to the role of chairman after 35 years with the firm.
His children Sean and Talia Sarafilovic, who currently work at the Dunfermline-based bakery, will step up to the role of joint managing directors.
Throughout his tenure as MD, André has guided Stephens to 'remarkable growth and success'. The business said his innovative vision and strategic direction have played a pivotal role in establishing it as a trusted brand known for quality products and exceptional customer service.
Under his guidance, Stephens has expanded its market presence, moved to a state-of-the-art bakery, and opened the UK's first standalone drive thru bakery.
The business currently operates 14 sites and also supplies more than 200 local convenience stores, including Co-op, Scotmid, and McColl's.
André also established the Stephens Foundation in 2018 to give back to local communities in which the business operates. So far, the charity has given away more than £130,000 to local causes and supports more than 35 breakfast clubs.
"We are thrilled to announce this leadership transition within Stephens Bakery," said André, who was honoured at the Baking Industry Awards last year with the Outstanding Contribution to the Baking Industry award.
"After 35 years as managing director, I am confident that Sean and Talia possess the knowledge and drive to lead the company into a new era of growth and success. Their commitment to our customers, employees, and partners is unwavering, and I have no doubt that they will continue to uphold the high standards we have set as a company."
Sean and Talia expressed their gratitude for the opportunity and shared their excitement about leading Stephens Bakery into the future.
"We are honoured and humbled to be appointed as joint managing directors of Stephens," they stated.
"We are deeply committed to the legacy and values that our father has instilled in this company. Together with our exceptional team, we will continue to build on our strong foundation and drive innovation to meet the evolving needs of our customers."