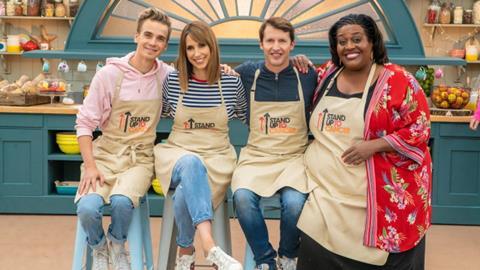 Even if we could roam freely right now, Bake Off was worth staying in for last night.
It got off to a strong start. Sadly, the same could not be said for YouTuber and Strictly Come Dancing star Joe Sugg who, within minutes of the signature challenge starting, cut his finger while peeling an apple and promptly fainted. Waking up on the tent floor must be a surreal experience.
Naturally, he got a lot of sympathy from the hosts and judges.
"Just to clear this up, I'm a vampire," said Noel. "So, when you were out, I helped myself."
Still standing up in the tent, and competing alongside Joe (pictured above), was former Big Brother contestant and TV presenter Alison Hammond, TV presenter Alex Jones and singer James Blunt.
"Have you all washed your hands?" Alison asked. Apt. And a reminder for viewers at home as well.
The contestants were tasked with making a traybake that depicted a scene. James, keen to bake his first-ever cake, sought to make a vanilla sponge with raspberry jam and a fondant scene of a plane flying through the country in honour of his pilot dad. Alison went for fudgy chocolate brownies with hearts on top, while Joe opted for a space-themed apple and biscuit spread cake. Yum.
Alex, using her imagination, created a coconut and pineapple cake that looked like a swimming pool. "It's the only thing I could of that was rectangular," she said.
At least she didn't lose the oven door like Alison (pictured below). "Everything's going smoothly. This is going to make really boring TV. Hold on, where's the oven door gone?" she said.
Having located the oven door (it slides into the bottom of the oven because it's fancy), she produced what the judges deemed a "decent brownie". Despite talking to his cake, literally putting his ear up to it and asking questions like a lunatic, James' offering was slightly overbaked, albeit very neat. Alex's was a tad dry, but had a lovely tropical flavour.
Having recovered from his injury, Joe was looking to impress. Miraculously, it worked. He even got a coveted Hollywood handshake. Biscuit spread, aka Biscoff Lotus Spread, makes everything better.
"What a turnaround," Joe beamed. "The comeback kid of the baking world!"
On to the technical, and Prue was getting filthy. "What we're after is 12 perfectly filled holes."
Cue sniggering from the contestants (and my sofa) as the celebs were tasked with creating 12 mini Yorkshire puddings complete with rare steak and a horseradish cream. The hole filling was made funnier by a rather phallic-shaped horseradish presented by Noel.
It is safe to say I have never wanted to eat a technical more. Yorkshires are my weakness, my true love. They're the best bit of every roast (yes, every – they belong with chicken as much as beef).
"I normally ask this woman called Bessie to provide them," said Alex. I don't discriminate. My love for a Yorkshire pudding ranges from homemade delights to Aunt Bessie's.
Despite, in my mind at least, Yorkshires being a staple creation, the contestants seemed uncertain. Some of Alex's looked like crisps, James' varied wildly in size and Joe opened the oven early, which I was led to believe was a Yorkshire pudding no-no. Yet, they rose beautifully.
The challenge led to one of the best lines ever uttered in the tent: "I'm going to have to un-beef them," Alex declared.
For context, she'd forgotten to put horseradish cream under the beef. It didn't help her though. Paul declared her creations "ridiculous". At least she didn't nearly kill the judges with a hefty hit of horseradish, like James did. Between that and other misgivings, he landed in last place, with Alex in third, Joe in second and Alison securing first place in the technical.
Showstopper time meant creating a 24-biscuit, 3D masterpiece that depicted what the contestants wanted to be when they grew up.
James, having recently fulfilled his childhood dream of being a pub landlord, set about making a gingerbread pub; Alex went for a lime and coconut travel agency; Joe an archaeological gingerbread dig; and Alison a police station.
Cue Alex's final showdown with a KitchenAid mixer. Having struggled with it in previous rounds, now she couldn't lock in the giant glass bowl. The mixer fought back, smashing the bowl in spectacular fashion, destroying her biscuit dough and cutting her hand in the process. At least she didn't faint.
"You couldn't make this up, could you?" she said.
Watching Alison and Alex (above) piece-build their "biscuit fantasies", as Noel called them, was an experience: haphazardly breaking biscuits to meet the requisite 24, trying to glue them together with buttercream (which was never going to hold properly) and furiously, but messily, icing them.
Alison, unfortunately, did not pull it off successfully. "It is a bit like a five-year-old has been given a lot of biscuits to decorate," said Paul. It was a fair comment.
Surprisingly, Prue was quite pleased with Alex's, even if the "grouting" wasn't very good.
But it was the men in pinnies that stole the showstopper. Joe's dig was "exquisitely done" and "delicious", while Prue declared James' fondant rug "the best use of fondant I've ever seen" even if the biscuits were a bit underbaked and some of the icing quite abstract.
"That's just how they look to me after a few pints," James replied.
It was a close call, taking into consideration the highs and lows of all three rounds, but Joe was the recipient of the prized Star Baker pinny. Hopefully, that should go some way to making up for all the Gillian McKeith comparisons right now.