Given the rising costs of ingredients and the demand for uniform bakery products, accurate dough dividing has never been more important, says Handtmann. So what are the main principles needed to achieve this?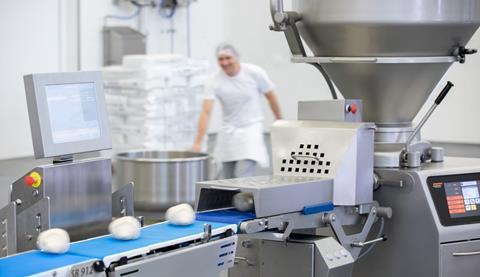 Without help, dough dividing can be a laborious task and, due to today's hectic lifestyles, bakeries and manufacturing facilities are busier than ever. As a business plans its equipment needs for the future, it is important to consider the benefits of owning a bakery machine that divides and rounds dough in consistently sized dough pieces and completes tasks in seconds rather than lengthy minutes. So, when considering purchasing dough dividers, bakers should conduct thorough research into all of their options.
The type of dough worked with is immaterial; the most important thing is accuracy when it comes to dividing, cutting and rounding. As such, seeking out and finding a dough divider that is the right fit is essential, as this piece of equipment plays an important role in determining the quality of products further down the manufacturing process. In the past, most dividers were restricted, being able to only produce a small range of products and requiring several machines. However, modern dough dividing systems are now more flexible, allowing them to handle a large range of products. Bakers should also take into consideration the ability of the divider to cope with both stiff and well-hydrated doughs without causing structural damage.
Bakery equipment manufacturers have responded to bakers' requirements, with machines that offer greater flexibility and a more hygienic design that allows for easier cleaning and maintenance. Another important – and often overlooked – factor is the cost of ownership over time. Regular servicing is vital to prolong the longevity of the bakery equipment.
In the past, many dough dividers used oil, which can be costly and messy, with the usage also increasing when parts begin to wear out. However, modern dividers are now predominantly oil-free and provide very accurate dough scaling weights while eliminating expensive divider oil, reducing cleaning costs and allowing for reduced maintenance. Thanks to the oil-free portioning principle, the consumption of oil in bread production can be reduced significantly, which leads to cost savings and a qualitative improvement in the crumb structure, as holes caused by oil inclusions and deposits are thus reduced.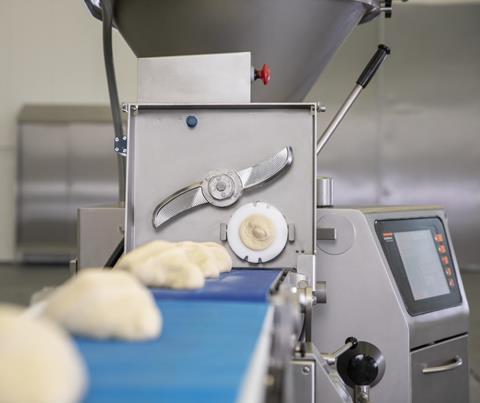 Continuous portioning and dividing can be achieved via a rotary cutter with servo-driven blades.
Another important factor to consider is the scaling range capability and ease of product changeover. Inline checkweighers are becoming increasingly important, being able to automatically adjust the divider settings without manual intervention.
Handtmann's dough dividing systems and portioning machines – the VF 600 B series and its latest VF 800 generation, with the Handtmann vane cell feed system as the outstanding technical feature – offer excellent product quality and weight accuracy. This makes for a vital economic edge when it comes to the use of expensive raw materials.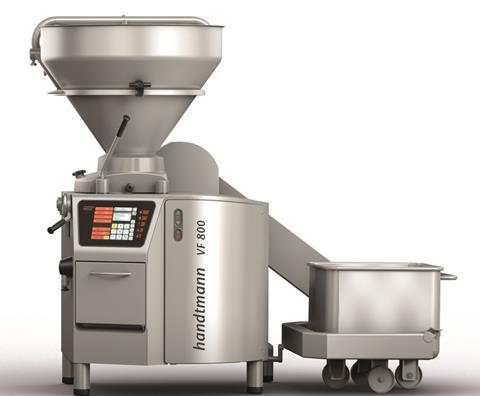 Product changes and dough deposits can be easily implemented in real time thanks to the piston-free function principle without conversion or dismantling by inputting the monitor control of the VF 800.
The systems have a modular design and are available with different performance levels to suit small-scale producers, as well as industrial bakeries. From single-lane to multi-lane production, the flexible systems can handle dough dividing, dosing, or forming, as well as separating in a single step when combined with auxiliary systems. Following a gentle and oil-free dough dividing principle these systems are suitable for modern bakeries with a wide variety of products, from forming wheat bread to tin bread, small baked goods, snacks or pastries
Finally, as well as being gentle and oil-free, Handtmann's latest cutting unit, the SE442-1, comes with a conveyor belt for continuous dough dividing, offering a high degree of flexibility and maximum process reliability.
For more details on Handtmann's dough-dividing capability, click here or see the video below: