While bakery manufacturers are keen to meet the needs of the growing plant-based market, there are a number of functional challenges to overcome. KaTech examines how these play out for muffins and illustrates the solutions needed to keep keep their taste and texture equally attractive to consumers as their original counterparts.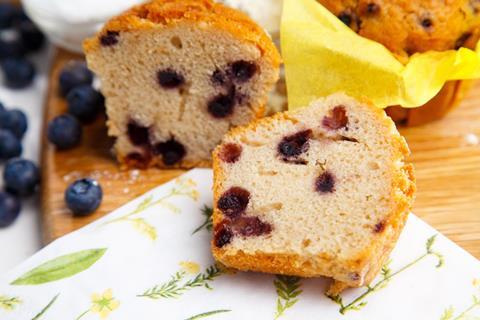 In recent years the vegan lifestyle has become a global megatrend. The reasons for this are many – from animal welfare to climate protection and health aspects, to name just a few. Until now, the market has focused largely on milk and meat alternatives, but a growing number of vegan products are appearing in other food areas as well.
Recently, this has also affected the bakery sector. Here, too, consumers are looking for a special treat that also fulfils their need for values. The market's reaction is to increase vegan product launches to meet this new opportunity. As a result, today's consumer is faced with an ever-increasing range of vegan products and has developed clear expectations with regards to their quality.
Today, plant-based alternatives must be as close to the original as possible and taste good to consumers in order to survive in this highly competitive market.
Therefore, food companies that want to go into this market and plan to develop new vegan alternative products need to get it right from the start.
As traditional cakes contain animal ingredients that are not accepted in the vegan diet, alternatives have to be found that also work equally well in high-volume bakery plants.
What can replace egg and dairy ingredients in baked goods?
The biggest challenge in making vegan cakes is to overcome the loss of functionality provided by eggs. Egg gives a stable emulsion, structure, stability and texture to the product. So, finding functional and plant-based ingredients that can replace egg is a major undertaking.
KaTech's solution for replacing egg in cakes is a combination of plant proteins, emulsifiers, plant fibres and starch, with each ingredient taking over part of the egg's functionality. The plant protein, for example, improves the structure of the batter and the texture of the cake.
Emulsifiers, on the other hand, not only combine the fat and water phases into a homogeneous batter, but also lead to higher moisture content in the product due to the bound water, which is better retained in the cake.
Another way to get more moisture into the product is to use plant fibres, which need to swell before they can perform their functions. This helps to increase and hold the moisture content of the product so that it does not dry out during shelf-life. Starches help to refine the texture of the product.
In some cake products, milk ingredients are being used. This helps brown the cake and results in a softer texture. As a substitute, vegetable-based proteins help improve the texture, and various sugars such as dextrose can contribute to better browning.
Vegan muffins close to the original
To prove how close its vegan recipes were to the classic original, KaTech tested its developments in the lab. Since texture and moisture are the biggest challenges in developing vegan muffins, this was the focus of the company's tests.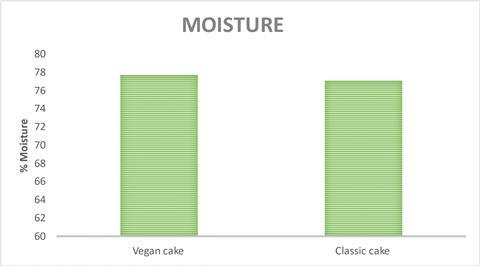 The results show that the vegan cake has a moisture content of 77.7%, compared to 77.1% in the classic cake recipe.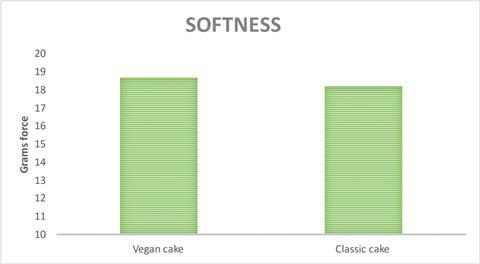 The softness was also very similar. The vegan cake needed 18.68 grams of force to break, while the classic cake needed 18.21 grams. This shows that KaTech's vegan cake development is very close to the classic cake recipe in terms of moisture and softness. The vegan version is slightly moister and softer, which is actually an advantage in terms of shelf-life.
How to improve plant-based muffins
However, a successful vegan muffin product should not only improve on the taste or texture, but also on its appearance.
One positive attribute of baked goods is that a baker knows if something is wrong the moment they come out of the oven.
Has the muffin risen sufficiently during the baking process? If not, the ingredients may need to be changed slightly or the baking temperature adjusted. How is the shape and browning of the top? What is the texture of the product?
Stabiliser systems help to adjust these elements and result in products that meet the requirements of the production processes.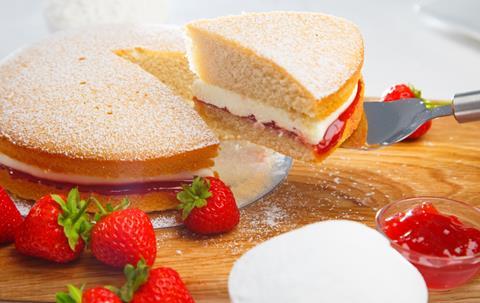 The simplest way to use stabilisers in cake products is with low-dose super-concentrates tailored to product and process requirements.
KaTech offers these low-dose super-concentrates, which are designed to deliver the key functional ingredients needed to produce cost-effective scratch-based bakery products without compromising on quality and performance.
With ever-increasing raw material prices and growing consumer demand for clean-label, plant-based products, KaTech has developed a range of scratch-based super-concentrates for all sweet bakery applications.
In order to produce good products that have the resilience and stability to cope with the harsh process steps – such as mixing, pumping and floor times in large-scale bakery production – stabilising systems in the form of (super) concentrates are essential.
If you would like more information about super-concentrates for vegan bakery products, please contact Stephen O'Neill on +44 (0) 151 3506814 or on scratchplus@khpartner.com .
To learn more about Katech's Scratch Plus offer, see the video below:
To download a copy of Katech's ScratchPlus brochure, click on the link below: