Bright colours, achieved with natural ingredients, are among the top features attracting consumers to bakery. Dawn Foods examines the latest colour and flavour trends and advises bakers on how to achieve them.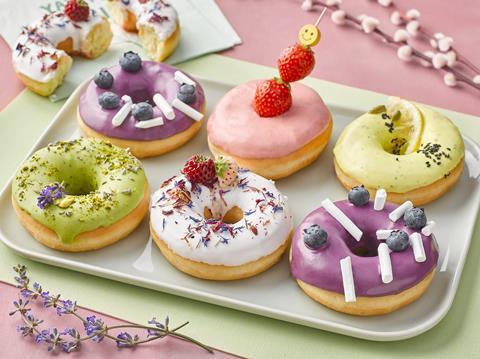 In the bakery sector, supplying ingredients with natural colours and flavours is a given. Naturally sourced ingredients have never been more important as consumers become more interested in the provenance of their food, as well as health concerns about fat and processed sugar. Indeed, a recent survey by FMCG Gurus1 reveals 34% of people surveyed are now more likely to pay attention to natural ingredients when purchasing food and drink. As a result, bakery ingredients suppliers are continuing to adapt their product ranges to address consumer and customer demand for 'cleaner' foods – in other words products made without artificial additives and that are as natural as possible. According to Dawn Foods, today's visually inspired consumers 'buy with their eyes', but it is not just about outward appearance, as great-looking bakery products also need to deliver on taste – and all being as natural as possible.
Instagrammable brights
The popularity of bold, bright colours is being fuelled by consumers' love of social media platforms – and impactful colours in baked goods make for a great Instagram picture. There is plenty of experimentation with colour in branded sweet bakery lines. When using natural colours in some applications, however, there can be challenges with 'colour fade' over the shelf life of the product, so to ensure vibrancy in bakes using natural colours, Dawn advises baking in smaller batches or baking cake layers that are thinner, for example. This means the natural colour will be much more concentrated and the bake time diminished to preserve the colour. Bakers should also select the right types of natural food colour for the required process, to ensure bake stability.
Fruit and vegetables for natural colours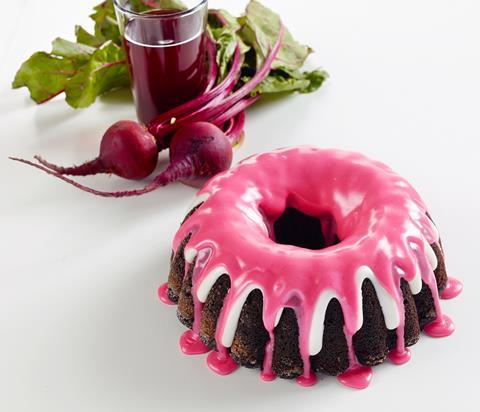 Adding fruit juice and vegetable juice concentrates and extracts to baked goods is a natural way to add both colour and flavour.
To achieve this, bakers can use items such as Dawn's compounds – all-natural flavour fruit concentrated pastes, which can be added to icings, glazes, frostings, and filling creams. All the compounds feature natural fruit juice concentrate, such as pomegranate, blueberry, mango, passion fruit or lime & mint, adding a subtle hue that is visibly appealing in the finished product.
Flavours are reflective of the mood of the nation. Today, bright and bold tastes are running alongside a more considered flavour palette, as consumers re-evaluate their health and wellbeing due to the impact that the coronavirus pandemic has had on every part of their lives.
Fun, fresh & fruity flavours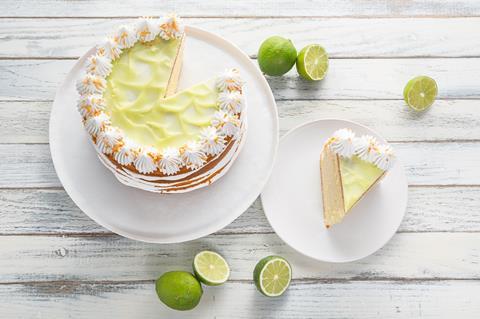 Gradual easing of lockdown will see consumers keen to celebrate the missed 'life's sweet moments', with bakes featuring fresh fruity tastes that remind them of holidays and happy times. Key flavour trends for this summer include the classics of lemon and lime, as well as fruit salad flavours of strawberry, raspberry and watermelon and a hint of the tropics too with pineapple and papaya.
Foreign holidays may be off the agenda for a while yet, so Dawn is encouraging bakers to add more colour and flavour to their bakes. As well as compounds for colour and flavour, bakers can use Dawn's fonds – cream stabilising powders that give fruity flavour to creams to create mousse desserts and cream cakes.
Immunity boosting flavours
Consumers are more cautious about their health and wellbeing because of the pandemic and, after months of being cooped up indoors, many will want to embrace a healthier lifestyle. Six out of 10 global consumers are increasingly looking for food and beverage products that support their immune health2, with one in three saying that concerns about immune health increased in 2020 over 2019.
The flavours of real fruit with immunity-boosting qualities and, due to concerns about processed sugar, those with a less sweet taste profile, such as blueberries or citrus fruits, will be seen even more across bakery NPD. Consumers are also keen on herbs and spices that support wellbeing, such as turmeric and ginger. Less traditional flavour combinations can give bakers more opportunities to experiment with interesting concepts and add in seasonal specials to their ranges. Unexpected flavour combinations along with contrasting textures will help to spark interest in bakery lines. Indeed, according to Mintel, 65% of UK consumers say they would like to see more innovative flavours in sweet bakery3.
A decadent taste for nostalgia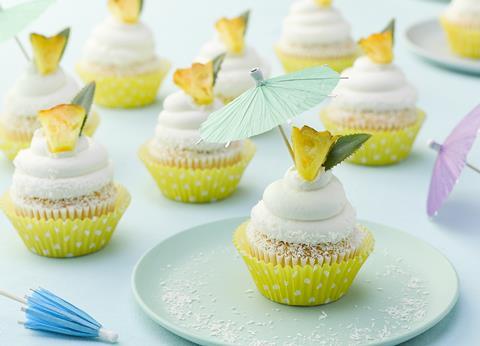 There is talk of an economic boom post-Covid, along the lines of the 'Roaring 20s', fuelled by young people who have missed out on life experiences in the last year4. Whether this happens remains to be seen. However, there is continued interest in nostalgic flavours, but with a decadent rather than a homely twist. Consumers have had enough of homely favourites and want to 'put on the Ritz'. As such, Champagne flavour will continue to be big, along with flavours that give a nod to vintage cocktails, such as Long Island Iced Tea and Gin Fizz. While much of the alcohol flavour is lost when added to the batter, it can easily be incorporated into icings and frostings for cakes with a grown-up twist. Add Dawn's Marc de Champagne Compound or a splash of vodka to a frosting along with passion fruit compound for a Rockstar Martini-inspired cupcake!
To learn more about how Dawn Foods can keep bakers on-trend with colour and flavour, click here
Sources

1 FMCG Gurus 2020
2 Innova's Consumer Survey 2020
3 Mintel Cakes, Cake Bars and Sweet Baked Goods: the impact of Covid 19
4 Dr Nicholas Christakis,Apollo's Arrow: The Profound and Enduring Impact of Coronavirus on the Way We Live