Today's health-conscious consumers are increasing demand for tasty, high-protein snack bars and the level of competition in the sector is ramping up. However, bringing a successful product to market is not always as simple as it seems, says Reiser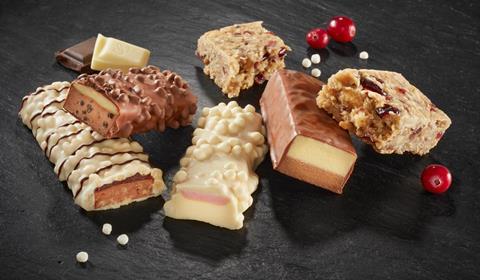 It's a formula that, on the face of it, sounds straightforward. You come up with a great idea for a tasty, protein-filled snack bar, you find some eager buyers and you're ready to start fulfilling orders.
You're convinced the product will be a winner with today's health-focused consumers, as the snack bar market has been going through the roof over the past few years. Consumers' eating habits have changed. Grazing, it seems, is now the norm. And the tradition of three meals a day at the dinner table is quietly edging out of the back door. Your theory is backed up by strong statistics, which indicate that 'healthy' bars have been dominating the UK snack bar category for some time1, with sports and nutrition bars taking up a further sizeable chunk of the market1.
Yet, while your concept might be super-charged and your marketing whizz kids are chomping at the bit, you've still got to produce them – and initially in sensible quantities that will allow you to stimulate interest, convert that interest into viable sales and, of course, reap the rewards.
And this, says Reiser, is where companies starting out on snack bar production can hit their first major hurdle.
'Healthy' and protein-filled snack bars have two major challenges to overcome in production terms: a wide variety of ingredients – for example, nuts, seeds or fruit; and a tendency, particularly when it comes to protein-based snack bars, of having a very stiff dough to process.
"With high-protein bars, when you start adding protein powders to, let's say, a cookie dough, they tend to get stiff very quickly," says Reiser national bakery specialist Gary Fox. "And traditional bakery equipment just cannot cope with that stiffness. Because the level of protein powders is so high, it's very difficult to process. That's where we come in with our expertise on the right equipment to use, knowing how to make these ingredients work and processing them."
Reiser has watched the snack bar market – and the relative demand for equipment to process those products – take off in the past two to three years. James Fitch, bakery sales manager at the company, estimates about 30-40% its bakery equipment sales are now used to produce bars, filled balls and similar goods.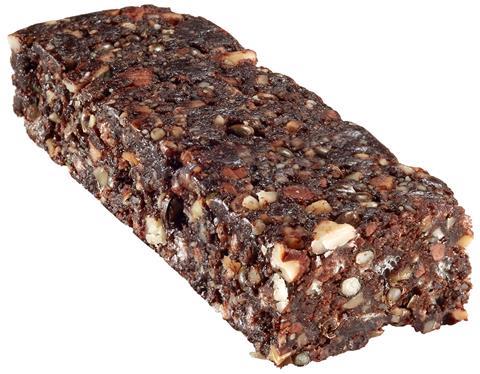 Stiffness of the dough is only one of the challenges, however. Many producers of 'healthy' snack bars are working with ingredients such as dried fruit, almonds or cashew nuts, which consumers expect to see distributed through a bar as physical confirmation of its healthier credentials. These ingredients, as Fitch points out, can cost tens of pounds per kilo. So, gentle handling during production to avoid damaging them, as well as an even spread through the dough for good visual effect are both important.
"Proper portioning and weight control are paramount," adds Fitch. "If your majority (100%) ingredient in a cookie is flour and you are taking 20-30% of that out and replacing it with protein powder, that makes It a very expensive dry ingredient content, so you want your weight control to be really tight. The weight continues to change depending on the density of the dough, then the dough changes as the ingredients suck up the moisture and it becomes even more dense. Combining your system with process checkweighers and having that weight control capability is crucial."
Over time, protein-filled snack bars have evolved considerably from the days when they were the prerogative of body builders. Not only do they need to offer the functional assets consumers seek in dietary and health terms, but the increasingly competitive nature of the market means they need to stand out on-shelf and appeal in terms of flavour and indulgence.
"Now, protein bars have become very luxurious, with
coffee shop-type flavours"

James Fitch, bakery sales manager, Reiser
"Now, protein bars have become a mainstream item. People who pick them up will want them to be almost as tasty as (if not tastier than) a Snickers, for example," says Fitch. "You can see this with the flavours coming through … such as cookies & cream. They have become very luxurious, coffee shop-type flavours in a bar that is perceived to be better for you. And they all want to hit that sweet spot of 20-25g protein per bar."
Reiser's extensive experience in snack bar production puts it in pole position to assist manufacturers in achieving their goals, says Fitch. The company's R&D centre in Milton Keynes helps customers to make samples of new products, testing the production methods, the combination of ingredients and working on recipe and process to get to a point where everybody is happy.
Bakery specialist Fox now finds he is spending 50-60% of his time working on protein and snack bars, including date bars and snacking bars for children.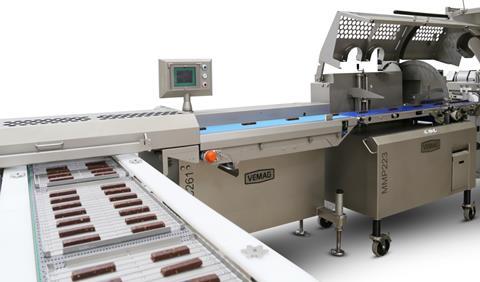 Central to the process is the company's powerful Vemag positive displacement double-screw system, which assures gentle handling of the dough and can be easily adjusted to consistently produce exact-weight portions. The modular kit can be combined with different attachments to handle a wide variety of products, as well as an inline checkweigher to assure consistently accurate weights and take into account variables such as the temperature and density of the dough. This helps to eliminate giveaway and increase profitability.
"Once you have the Vemag pump, you can add attachments very quickly to process different products," says Fitch. This can include bar extruding and bar forming systems to produce all types of products, including energy bars, balls and nutrition bars. Depending on the product type, our Vemag equipment can produce extruded products in a single stream or multi lane.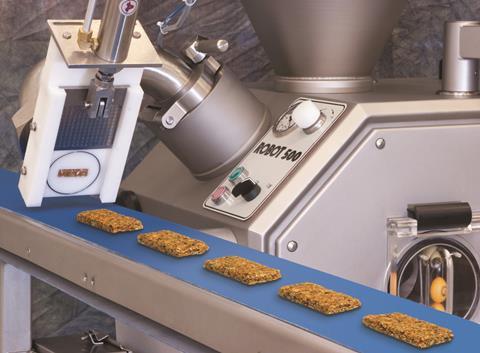 "So, if you have a Vemag bar extrusion system, the equipment can be adapted very quickly and easily to make bar with a topping layer, a filled bar or even a filled ball," he adds. "Generally, we start out by working with a customer on a standard extruded bar with inclusions – nuts or chocolate, for example – then the next thing might be to add a layer. After that, the customer might want to enrobe the product or make something completely different, like a filled ball. The Vemag system is ideal in that it can be added to and adapted for future needs."
Experience in other industries, such as pizza dough and fondant icing, has helped Reiser to specialise in this type of product and create machinery that is robust enough to handle it.
Apart from the weighing process, time and costs can be saved at the mixing point with the use of the company's Seydelmann Mixing-Refiners. "Apart from mixing, these can be used to rework a misshapen product, cutting it down to very fine particulate and putting it back into the mix – and that can prove to be a big cost saving for a customer," says Fitch. "We can also use it for size reduction of ingredients, for example, or to mix under vacuum, so it's a really flexible piece of equipment that traditionally didn't exist in the bakery market. And one of the biggest advantages is the time-saving; these mixes are so sticky and stiff that they are difficult to get out of a planetary-type mixer with a hook or a beater. However, the Seydelmann system uses an ejecting wheel, so the product comes out very quickly and efficiently and the bowl is almost completely clean at the end of it.
"One of our customers was using a standard mixer for this type of product and it was taking them half an hour to scrape the mix out, whereas with the Seydelmann, they could produce a mix and empty the bowl in less than 5 minutes."
Reiser has also ensured that its equipment can handle small runs of, say, 30-40kg batches, enabling it to help producers make samples that they can take to market. This, combined with the specialist expertise and advice offered at the company's R&D facility, is crucial, adds Fitch. "If you're wanting to get into snack bar production and are starting out, come to Milton Keynes and spend a day with Gary producing them in our test kitchen. It might take three, four, or five attempts to get it right, but we're here for that."
"We work with producers and spend valuable time working on a recipe and process to get it to a point where everyone is happy," adds Fox. "Launching a successful product is what it's about at the end of the day… and we're here to help do that."
For more on Reiser's Vemag system, Seydelmann mixers and other bakery equipment, click here
Source
1 https://www.thegrocer.co.uk/category-reports/doctors-orders-snack-bars-category-report-2020/602856.article