With the contrasting trends of health and indulgence driving the growth of smaller portion sizes in bakery, products such as traybakes and flapjacks are seeing increased demand. However, these traditionally hand-finished products really require automating to be produced at scale, argues Reiser.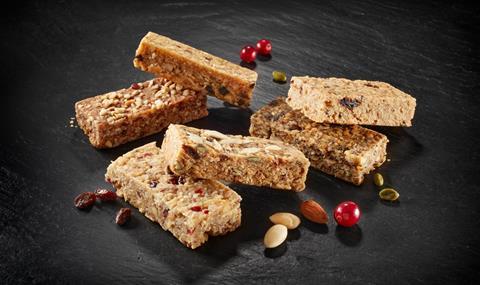 Among its forecasted top bakery trends for 2022, British Baker recently highlighted that a little indulgence1 goes a long way with today's post-pandemic consumers.
While there are those who are actively seeking healthier foods to eat, particularly following the pandemic, there are also those who seek out permissible indulgent snacks and sweet treats in smaller portion sizes. Falling neatly into this latter category are products such as brownies, traybakes, flapjacks and all kinds of sweet confectionery that are available in more bite-sized offerings.
Alongside this, the ongoing demand for innovation on a wide variety of ingredients and flavours, as well as the growing need to offer gluten-free and plant-based options, have all brought fresh challenges to modern bakery businesses. While layers of caramel on a chocolate shortbread or a sprinkling of nuts in a granola bar might be high on shoppers' wish lists, for example, delivering these efficiently and at scale is no mean feat.
Traditionally, many of these sweet treats would have been provided by artisan bakers, creating hand-finished products. But as time has moved on and demand has ramped up, the larger industrial and semi-industrial bakeries are now under increased pressure to provide these sweet confectionery items in larger volumes.
Yet this can be a labour-intensive business, requiring a lot of hands to make greater volumes of these types of products successful and profitable. Plus, in the recent UK market, with Brexit pressures coming to bear and a lack of skilled labour to hand, the focus from bakeries is increasingly on how they can automate various processes to save on labour and reduce costs. As British Society of Baking chairman Mark Young pointed out in another British Baker article2, with the baking industry having to deal with a shortage of labour across all pay grades, throughout 2022 and beyond opportunities will be centred on more efficient and automated processing.
Significant savings
At Reiser, national bakery specialist Gary Fox says the company has seen an increase in demand for automated sheeting, used on sweet confectionery products such as brownies, traybakes and flapjacks. The key advantage, he says, is that it takes labour out of the process and speeds everything up, thereby saving time and costs.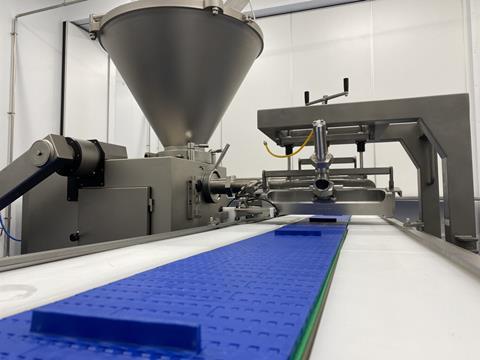 Reiser recently completed the installation of an automated sheeting line for a UK bakery where the company needed to find seven or eight people to hand-scoop sponges, flapjacks and similar products. The addition of automation has taken this manpower down to three. "Like all our customers they really struggled to find the seven or eight people needed for this manual process, so this was a great result for them, as well as improving accuracy and speed," he says.
"They have also gone from doing around 1.5 to two trays a minute to nearly four or five trays a minute, so it's a great improvement."
Different bakeries clearly have different requirements and it's all about getting the process right to suit the company, notes Reiser's bakery sales manager James Fitch. "The sheeters we can supply vary depending on the tray size used," he says. "So for small, foil traybakes, for example, you'd use a seven- or 12-inch sheeter, whereas you might use an 18-inch sheeter for the larger product runs."
Processes often need to be tweaked to suit an automated approach, he adds. "For example, when making a typical caramel shortbread, the caramel would be heated, then poured on to the shortbread base, hand-levelled and cooled before being topped with chocolate. Using a Reiser sheeter, the heating step is taken out and ambient caramel is run directly on to the shortbread base. So that's a massive labour-saving application."
The heightened use of ingredient inclusions in products such as traybakes and bars also requires a gentle touch, he notes. "One of the potential challenges with sheeters is using them on products with inclusions. These ingredients are expensive, and you don't want to smash them up. So, combining the gentler action of Reiser's double-screw Vemag system with its sheeting lines creates a big benefit for customers."
Overcoming market resistance
Given the traditional nature of some of these smaller bakery products, there is still a certain level of resistance in the market to automating the sheeting process, acknowledges Fox, but he adds: "Business owners and managers do see the benefits of having an automated system and, generally speaking, once a system is installed, everyone is happy."
"Obviously there are still products that cannot be sheeted easily and still need to be done by hand," adds Fitch. "But then there are also products that you can sheet and do a 90% finish – such as stiffer flapjacks for example – and you might need to hand-finish the final 10%."
While some bakeries might feel the current inflationary market is a deterrent to automation investment, Fitch counters that it should actually be the opposite. "When you're offering an automation solution that is often about saving money on giveaway and on labour, then there's even more reason to invest," he argues. "Particularly right now, with issues outside of a bakery's control, such as labour shortage and rising ingredients costs. Those are really big reasons to consider investing."
Reiser, he notes, offers very flexible payment terms. "We work with customers to help spread the payments and make the equipment pay back over a certain period of time," he adds.
Experience and delivery
The important point is understanding what automated sheeting can actually deliver, notes Fitch. And, with both Gary Fox and a team of specialist engineers at Reiser, the team can bring experience and knowledge to the process for customers.
While there have been no massive changes in how products are sheeted over the years, it has been a case of fine-tuning and tweaking the process to continuously improve the weight control and spread on trays. "We learn at every install and we adapt the elements we learned on one for the next one," adds Fitch. "With sheeting, every product does perform a little differently. So we have to tweak elements to make it work and that's the strength Gary and the team can bring to sheeting installations – they have seen lots of variations and know what they can change to make things work with different products."
While Reiser has a state-of-the-art test kitchen and customer centre in Milton Keynes where they can demonstrate their equipment and produce customer's products in production conditions, what really allows customers to truly experience the benefits of automating their sheeting process, is by participating in an on-site trial. This way they can test the equipment's capabilities in large volumes and as a part of their production line.
"If someone is considering automated sheeting, the best route is to invite one of our team to visit and have a look at the way the items are produced now – and we can tell very quickly if we have a solution that can help them," sums up Fitch. "Automated sheeting can be used from smaller bakeries with decent volumes of production up to large multinationals, so it really covers the entire spectrum from small to large industrial users."
How Reiser can help
Reiser offers a Vemag single-lane sheeter featuring a Vemag Depositor and Rotary Sheeter attachment. The company's Rotary Sheeter produces portions of exact weight and size, deposited into trays.
For more details on Reiser's equipment for sheeting brownies, cakes and flapjacks, among other goods, contact the company on 01908 585300 or email salesuk@reiser.com.
Source
1 https://bakeryinfo.co.uk/finished-goods-reports/top-bakery-trends-for-2022-revealed-part-2/662802.article
2 https://bakeryinfo.co.uk/manufacture-opinion/bsbs-mark-young-on-why-efficiency-will-be-key-for-bakers-in-2022/662541.article