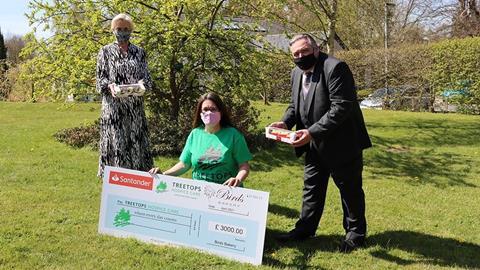 Birds Bakery has revealed its new charity partnership for 2022 after raising nearly £95,000 for multiple organisations over the past 12 months.
The business has chosen Canine Partners, which matches disabled people with expertly trained assistance dogs, as it's charity partner for this year. As part of this, Birds will be selling paw-shaped chocolate lollies in all stores across the East Midlands, where 10p from each sale will be donated to the charity, with more fundraising activities to come later in the year.
It comes after the bakery chain has raised £94,914.66 for MacMillan, Mickleover Sports FC and Tree Tops Hospice over the past year. Proceeds have also gone to The Children's Trust to support children with brain injury and neuro-disability as part of National Doughnut Week activity, as well as Guide Dogs, the UK's leading charity for the blind and partially sighted, where three guide dogs (Daisy, Barley and Flossie) were sponsored by Birds.
A portion of the money was also donated to Red Cross Ukraine, which helps to get critical care to civilians in both Ukraine and its bordering countries. For this, limited edition Ukraine cupcakes and chocolate lollies were made with 50p of every sale going to the charity resulting in Birds raising £18,507 for the cause.
"We're delighted at the total we've raised this year with the help of our loyal customers," said Mike Holling, sales and marketing director at Birds Bakery. "At Birds, community is at the heart of what we do, so we always endeavour to help those who need it most. It's why we've committed to contributing a percentage of sales every year to multiple different causes. From children's charities, through to guide dogs and more recently the crisis in Ukraine."
Birds Bakery has 62 stores across the region and products can also be ordered online and delivered to customers' homes via the Birds by Post service.