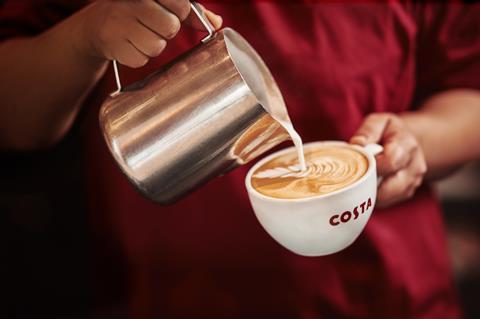 Costa Coffee has committed to achieving net zero carbon emissions by 2040 while also setting a target to halve emissions per coffee serving by 2030.
The coffee chain's 2030 goal has been approved by the Science Based Targets initiative (SBTi), a partnership between charity CDP, the United Nations Global Compact, World Resources Institute and the World Wide Fund for Nature.
Costa said it will work closely with its suppliers, partners and NGOs such as Rainforest Alliance to reduce the 95% of emissions in its value chain that sit outside of its direct control.
The company added that is also collaborating with suppliers of key ingredients such as coffee and dairy milk to improve farming practices as well as working with logistics suppliers to find low-carbon fuel alternatives.
Since the start of 2022, Costa's UK roastery has been powered by 100% renewable gas, and the company has also invested in renewable electricity across company-owned stores.
In common with the sustainability efforts of several of the baking industry's bread giants, Costa has joined the Courtauld Commitment 2030, a voluntary agreement to drive collaborative action across the entire UK food chain on reducing food waste, greenhouse gas emissions and water stress
"We are proud of the progress we've made over the years at Costa Coffee across all elements of sustainability," said Deb Caldow, Costa Coffee's global brand & sustainability director. "Committing to an SBTi-approved target helps us set a pathway to achieving significant carbon reduction; it is the right and necessary next step.
"We know that reducing our emissions by half per coffee serving and ultimately reaching net zero is going to take a lot of collective effort from all of us at Costa Coffee – from our team members and partners to our suppliers and consumers. But we are energised and prepared to work together to make a difference," Caldow added.