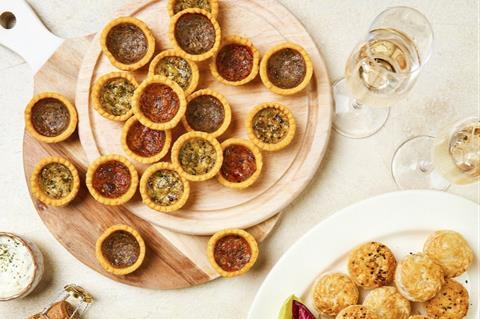 Foodservice brand Frank Dale is diversifying into independent retail and direct to public sales.
Foodservice brand Frank Dale is moving its frozen occasions food offering into the independent sector as it re-jigs its business model.
The Norfolk-based canapés, quiches, pies and cakes company has diversified from supplying wholesalers servicing the hospitality sector, and has started selling direct to both independent retailers and to the general public.
Owner Ed Miles explained: "With the hospitality industry being one of the hardest hit during Covid, it was time for the business to think outside the box and concentrate on what we do best, delivering delicious, authentically tasty occasions food but looking at new routes to market."
The new website, Frank Dale Foods Online, lets the company sell direct to consumers with a next-day service, opening up another new distribution channel.
Independent retailers, farms shops and delis can order via the Deli Shops website, a marketplace and e-commerce platform dedicated to the independent sector.
Ed Miles said that future plans for the brand include the roll out of a new gluten-free range in early 2021, to cater for those with special dietary needs as well as the launch of wholesale packs online.
New online retail lines for independents include miniature British classics with a quirky twist for fuss-free Christmas and New Year entertaining.
The line-up includes Fish & Mushy Pea Rosti; Beetroot Pastry, Spinach, Feta and Red Pepper Mini Quiche and Mini Yorkshire Puddings.
The portfolio also includes a range of larger sharing tarts and quiches such as Caramelised Onion Chutney and Mature Cheddar Tart in Turmeric Pastry; Winter Butternut Squash, Emmental, Red Onion and Spinach Tart and Smoked Salmon, Leek and Dill Tart in Beetroot pastry.
A selection of plant based and vegetarian foods mini pies, sharing tarts and mini/ individual quiches are also on offer.
A four-strong mini cake collection completes the range.