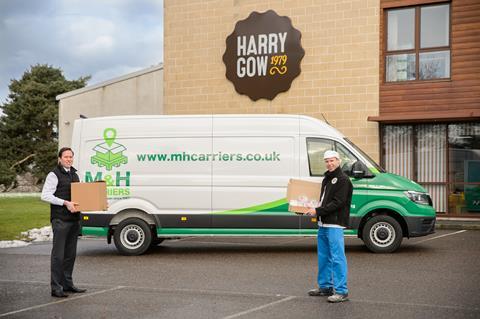 Scottish bakery Harry Gow has expanded its home delivery service to the north of Scotland including Aberdeen, Dundee and the Highlands.
The move is in response to 'overwhelming demand' and builds on the company's local Harry's at Home delivery round, which launched in the Highlands and Moray in January serving popular bakes, the fifth-generation family baker said.
In addition to its pre-selected Tea Time With Bells On and Harry's Favourite boxes, the business has now launched a new 'build your own' option.
Customers can choose from over 25 popular products including dream rings, fern cakes, scones, butteries and freshly baked loaves and rolls.
"Harry Gow fans will now be able to make their dream selection box of their favourite bakes – and have them conveniently delivered to their door," said the bakery's director Fraser Gow.
"Ensuring our goods reach our customers in perfect condition is incredibly important to us, so we're delighted to continue our partnership with M&H Carriers throughout this expansion. Their work round the clock ensures that no matter the destination, our bakes arrive as fresh as they would be if they were purchased in one of our shops."
Harry Gow has 17 stores spread across Inverness, the Highlands and Moray and is said to be renowned for its dream rings and marzipan apples. Its products can also be found in a number of Co-Op stores across the region.