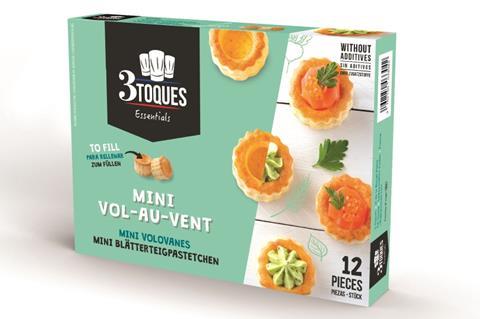 Read-to-fill pastry supplier Pidy is expanding from foodservice into retail with its 3 Toques range of mini cup and vol-au-vent cases.
The products, which can be ambiently stored, are listed in Ocado and available in packs of 12, with a shelf life of 15 months.
Belgium-based Pidy, which already supplies pastry products to the UK hospitality industry, said it has launched the 3 Toques products to meet the growing demand for 'family-focused food' as well as the increase in home baking and cooking over the last 12 months.
"With so many people running to their kitchens to bake and create during the last year and discovering passions that are here to stay, now is the perfect opportunity to launch 3 Toques with Ocado," said Fabien Levet, commercial manager at Pidy UK.
"Introducing 3 Toques is an important moment in our journey to provide home cooks of all abilities with inspiration in the form of our quality pastry products."
Pidy said it is committed to using free-range egg recipes that are free from artificial flavours and preservatives.
"We have worked hard to ensure customers can get the same freshly baked taste they get when making pastry from scratch, thanks to our commitment to quality, technical excellence and ethos for using 100% natural ingredients," Levet added.